Parks Associates Welcomes Cox Communities as 2022 CONNECTIONS Summit Reception Sponsor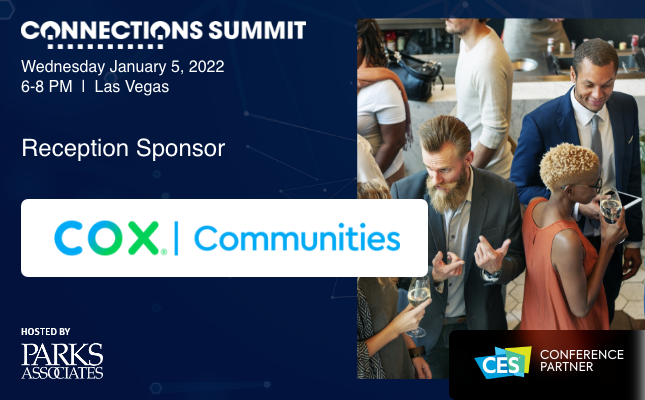 Parks Associates' CONNECTIONS Summit: Smart Home Growth Strategies conference series is excited to announce Cox Communities as the Reception Sponsor.
Cox Communications is committed to creating meaningful moments of human connection through technology. The largest private broadband company in America, we proudly serve six and a half million homes and businesses across 18 states. We're dedicated to empowering others to build a better future and celebrate diverse products, people, suppliers, communities, and the characteristics that make each one unique. Cox Communications is the largest division of Cox Enterprises, a family-owned business founded in 1898 by Governor James M. Cox.
Don't miss the upcoming CONNECTIONS™ Summit sessions during CES 2022 on January 5, 2022, in Las Vegas, focusing on the rapid deployment of connected products for consumers, including the new business models, technologies, partnerships, trends, and key issues impacting the rapidly changing landscape of the connected home. The executive event features panel discussions on the smart home, Internet of Things (IoT), and connected entertainment, analyzing trends and implications for connected consumers and opportunities for companies to build new revenues and innovative business models. For more information on this event, view the 2022 CONNECTIONS Summit at CES Agenda today!
Want to learn more about event sponsorship opportunities? Contact sales@parksassociates.com

Next: Parks Associates Announces Notion as 2021 CONNECTIONS Session Sponsor
Previous: 20% of All Security System Owners use Voice Assistant Almost Daily or Several Times a Day for System Control

Comments
Be the first to leave a comment.
Post a Comment