CONNECTIONS 2023 Announces Wi-Fi Sponsor – Becklar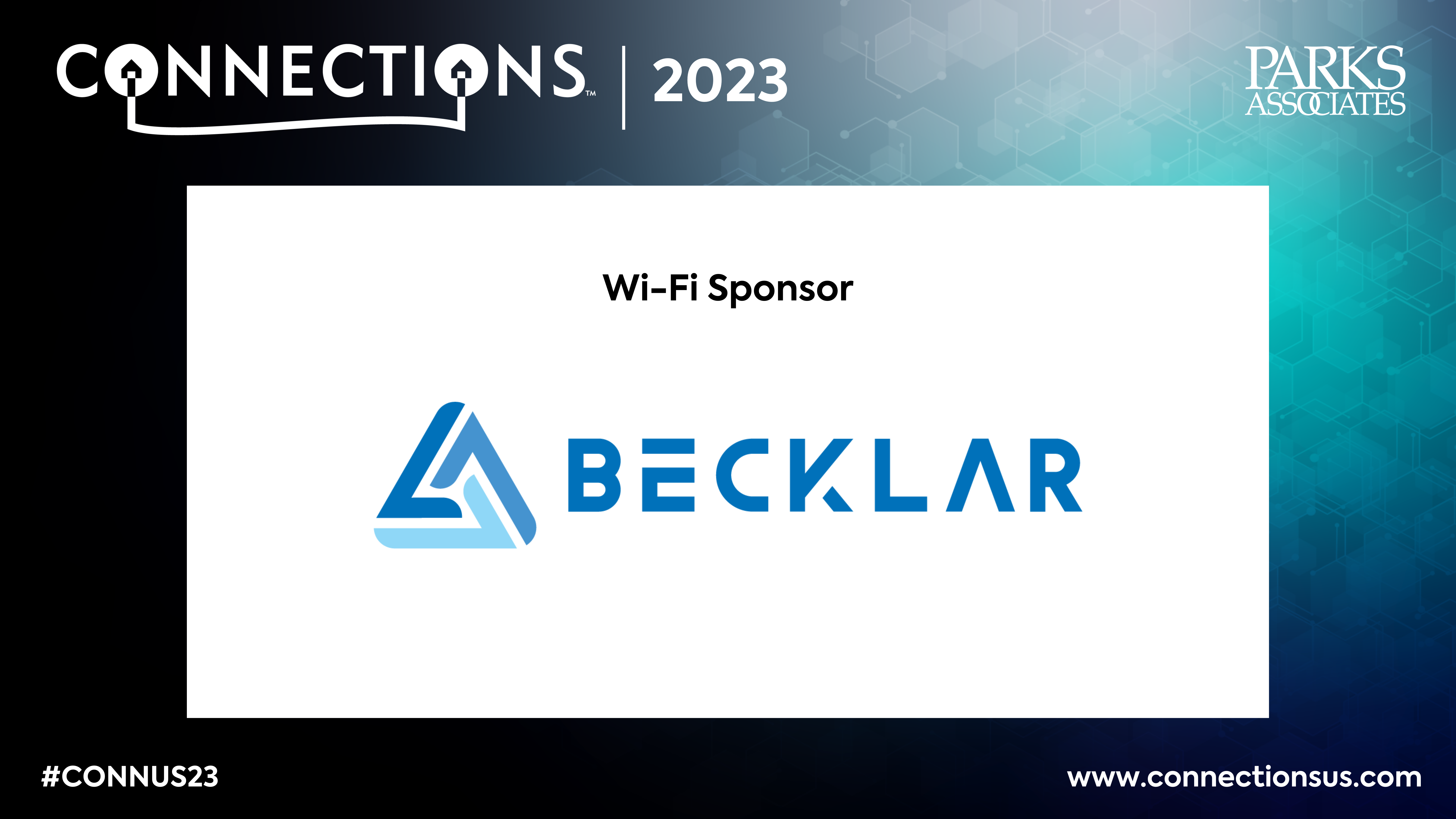 Becklar
is participating as the 2023 Wi-Fi Sponsor in
CONNECTIONS™
: The Premier Connected Home Conference, hosted by
Parks Associates
, taking place over the dates of May 23 – 25, in Frisco, TX. CONNECTIONS™ 2023 features an in-person conference May 23-25, 2023, with virtual sessions on March 2, July 20, and October 5, focusing on the smart home market, home security, and new services for the home.
Becklar
creates solutions for a safer world by bringing together innovative technologies and caring people to enhance the freedom, confidence, and peace of mind of their customers. Becklar provides North America's largest, fastest, and premier quality Connected Safety Monitoring platform. Becklar creates industry-leading connected safety solutions for enterprises and individuals, delivering a world-class comprehensive suite of lifesaving and life-enhancing technologies. Becklar leverages its platform of innovative technology and award-winning services to create customizable and comprehensive solutions to meet the connected safety needs of their enterprise and individual customers across diverse industries, including personal emergency response solutions, workforce safety, personal health & safety, vitals monitoring, and event response monitoring.
2023 CONNECTIONS™

Mar 2 2023 New Market Segments: Consumers and the Smart Home
Jul 20 2023 New Era of Home Services
Oct 5 2023 State of the Home Security Market
2023 In-person Conference | MAY 23-25, Omni Hotel, Frisco, Texas – co-located with the Connected Health Summit
May 23 Pre-show Research Workshop: Modern Living
May 23 WELCOME TO CONNECTIONS™
May 24 Modern Living: Technology
May 25 Market Expansion
Next: The Cost to Streaming Services of Password/Account Sharing – Analyst Insights
Previous: Thank You for Attending the 2023 Smart Energy Summit, Austin

Comments
Be the first to leave a comment.
Post a Comment