Xbox All Access Provides Hardware-as-a-Service for Gamers
Microsoft is reportedly planning to offer its Xbox One consoles in a bundled subscription service known as Xbox All Access. The service will include a subscription to Xbox Live Gold (Microsoft's online gaming platform) and Xbox Game Pass (Microsoft's service for subscription access to games), and either an Xbox One S or Xbox One X depending on the selected tier. Pricing with a two-year contract will be $21.99 per month ($527.76 total) for the Xbox One S package and $34.99 per month ($839.86 total) for the Xbox One X package.
A new base-tier Xbox One X is $499 while the lower-end Xbox One S is $229, with subscriptions for Xbox Live and Xbox Game Pass going for $9.99 per month each. Consumers who sign up for the Xbox One X package will end up saving $138.76 overall while consumers on the Xbox One S plan save $180.76, assuming they would otherwise have month-to-month Xbox Live Gold and Xbox Game Pass subscriptions.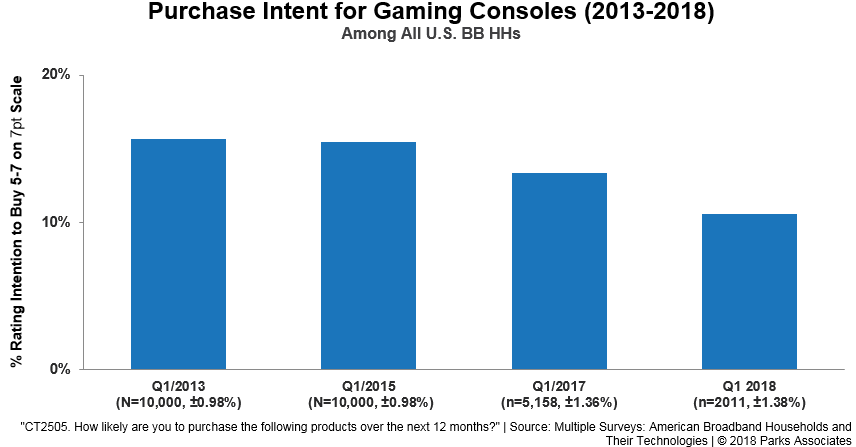 This new offering by Microsoft is, in essence, a way of offering financing to customers at a discount rather than a premium while rolling in Xbox Live Gold and Xbox Game Pass, both of which likely have a much higher profit margin than any console is able to achieve. Tying these two software subscriptions into Xbox All Access allows Microsoft to ensure revenue from their customers at a cost that will continue to decrease per-unit as uptake increases.
Additionally, this new option is a way for Microsoft to fill the gap in historically under-penetrated low-income households and perhaps reverse the current trend in consumer purchase intent, which has fallen to just 11% in Q1 2018 according to the Parks Associates survey of broadband households. Consumers' YOY purchase intent, as well as actual purchases, for consoles has decreased between 2013 and 2018 and Microsoft is surely feeling the impact. This new proposition is similar to the smartphone financing model which has seen great success over the last few years. If Microsoft is successful in translating this model to the console market, it will mark the beginning of a wave that will alter both the definition of console ownership and the relationship between consumers and console manufacturers moving forward.
Further Reading:
Next: Can Smart Technology Really Reduce Anxiety and Promote Peace of Mind?
Previous: Late-Night Reflections on CONNECTIONS 2018 and Diversity

Comments
Be the first to leave a comment.
Post a Comment