Will HBO's Streaming-Only Service be a Pay-TV Killer?

In a recent article for re/code, Parks Associates research revealed a potential loss of 6.8 million pay-TV subscribers when HBO's web-only subscription video service releases this year. Citing the results of the firm's most recent consumer study, author Peter Kafka writes "if the people who respond to Parks' survey actually follow through on their plans, then HBO's new 'over the top' service will end up costing the pay-TV business around 7 million subscribers. That's 7 percent of the industry's base, vaporized."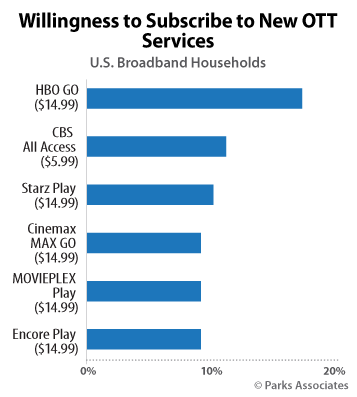 Parks Associates' study surveyed 10,000 U.S. broadband households and found that an HBO OTT offering will create competitive challenges for all ecosystem players, including Netflix, Amazon, and pay-TV providers. Seventeen percent of survey respondents noted that they would be willing to subscribe to HBO's service once it launches, and of those, half are willing to drop their pay-TV service in favor of an HBO-only package.
Commenting on the new data, Parks Associates analyst Glenn Hower said, "HBO picked a good time to announce its standalone HBO Go OTT service in the U.S. The percentage of subscribers interested in OTT video services is trending upward, and more industry players are planning to launch their own OTT services."
With 50% of U.S. broadband households reporting a subscription to some type of OTT video service, 2015 is set to "be the year of OTT," according to Brett Sappington, director of research. However, consumers aren't yet giving up on their televisions—sports channels remain a distinct reason why consumers haven't yet cut the cord.
"My hunch is that the answer is in the middle," says Kafka. "Most people who have pay TV will keep paying for pay TV, because change is hard, and most people don't like to do hard things when they watch TV. They just want to watch TV."
Results from the Parks Associates survey are available in the firm's consumer analytics research, Consumer Segmentation: OTT Video Buyers.
To read the full re/code article, click here.
Further Reading:
Next: Coming Soon? Apple Joins the Fray in this Year of OTT
Previous: Amazon Studios on the Silver Screen

Comments
Be the first to leave a comment.
Post a Comment