What About the RSNs?
by Billy Nayden | Jul. 20, 2018
Stories about the pending purchase of 21st Century Fox assets have dominated the media industry headlines over the past few weeks, with Comcast conceding to Disney's $71 billion cash and stock offer for said assets.
However, The United States' Department of Justice recently ruled that they will approve a sale of these assets to Disney only if they agree to divest Fox's 22 regional sports networks (RSNs) as part of the deal, due to monopoly concerns stemming from the company's ownership of ESPN. This development leads to the question on everyone's mind: what happens to the RSNs once the assets get sold?
The RSNs offer a very unique value proposition, as they hold the broadcast rights to 44 major league teams, as well as a number of other popular, local teams. Additionally, because fans typically watch their team's games live, it makes these RSNs one of the more attractive channels in any cable package to both consumers and advertisers. However, Parks Associates research indicates that people are watching less live TV than in the past. In Q3 2016, 53% of U.S. broadband households indicated they watch live TV, down from 64% in 2015 and 67% in 2014, which could make the RSNs a tough package to unload.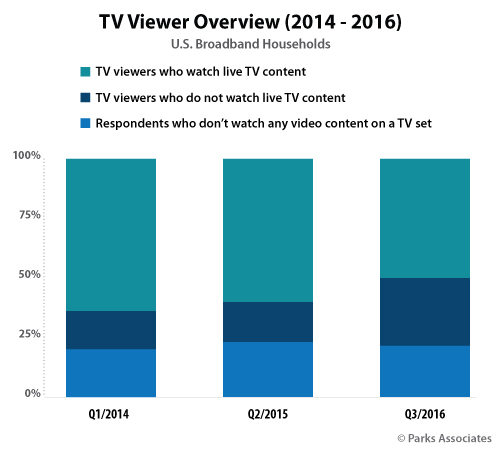 In the age of streaming, an obvious candidate for any live content is technology companies like Facebook, Amazon, and Google, who have made significant investments in bolstering their offerings when it comes to live sports. However, the regional appeal of RSNs doesn't exactly fall in line with the national and international ambitions of these companies in the content space, making it a bit of an odd fit.
Beyond the tech giants, it seems likely that a provider such as AT&T could be interested in purchasing RSNs. Service providers are attempting to bolster their content options to compete with the growing number of OTT and other service options. AT&T already has a small RSN footprint and could look to expand it as a differentiating factor for their pay-TV and OTT offerings.
The wildcard option in all of this is the teams simply buying back their own RSN and going direct to consumer with their fan base. The New York Yankees seem to be the most likely candidate to take this path with their YES Network, but surely, other teams are considering a potential bid to control their own TV rights.
However, in an age where nearly every company seems to have an interest in the content business, the opportunity to purchase live, major league sports may be too good for someone to pass up, despite the decline in live TV viewership. While it's easy to see the potential buyer being a tech company, provider, or the teams themselves, in all likelihood, it will be some combination of the three, with the package of 22 networks being split up, likely with multiple buyers. Additionally, there's certainly a chance that a company with little to no experience in the content space makes a bid, in an effort to enter the space.
For anyone concerned with the future of live entertainment, the divesting of Fox's RSNs will be a story to keep an eye on.
Next: The Decline of Pay-TV Services – New Whitepaper
Previous: The Disney / Overwatch League Deal Will be an Important Gauge of Mainstream Esports Appeal

Comments
Be the first to leave a comment.
Post a Comment