WD TV Live - Best Selling Networked Digital Video Player
by | Aug. 20, 2010
I had an interesting call with Western Digital yesterday regarding their WD TV Live Plus product, one that we categorize as a Networked Digital Video Player. They indicate that recent sales numbers actually have them leading this category for the U.S. market. They note that they're even beating the vaunted Roku Digital Video Player.
After years of hand-wringing about how (or if) digital media adapters would sell (which they really didn't until it was determined that streamed video was the one type of content that would spur their sales), Western Digital's role in consumer storage gives them an excellent brand at which to approach this market. If you look at the consumer segments that demonstrate the need for a stand-alone digital video player - lots of current consumption of online video, willingness to condider additional equipment to accomodate video streaming to the television, etc. - current network-attached storage users are a great fit. Our own data (see chart) shows just how much more NAS owners are interacting with online video.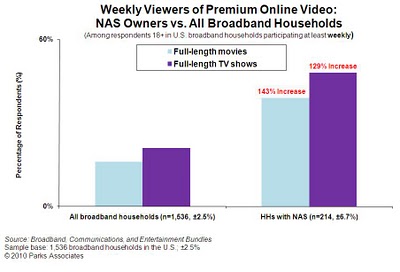 In other connected TV news, Accedo Broadband has announced that it is in the TV apps business. Although the company has a legacy of developing gaming applications, it has expaded to include video and other digital media. They will be showing this at the upcoming IBC in Amsterdam.
Next: Marvell acquires DS2 intellectual property and assets
Previous: Security beyond the PC: Intel buys McAfee

Comments
Be the first to leave a comment.
Post a Comment