Value-Added Services will be Critical to ISPs post-COVID Strategies
by David Drury | May. 11, 2020
Internet service providers (ISPs) are in the midst of a significant sea change. ISPs must support the quickly evolving internet access demands across the globe brought on by the COVID-19 crisis. They are being called on to keep consumers and businesses connected, and are suspending data limits, waiving late fees, halting service termination, opening public Wi-Fi hots spots, and providing free broadband service among other measures to assist the public. From Parks Associates Q1 2020 survey, 42% of US broadband households report increasing their internet use at home due to COVID-19.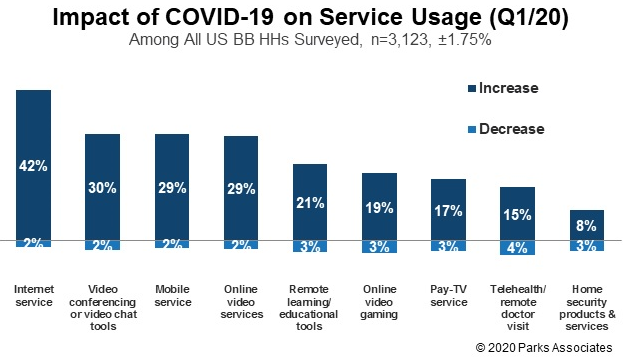 Historically, ISPs have leveraged value-added services (VAS) for marketing and customer retention as well as revenue generation from fee-based services. These services range widely from online storage, to parental controls, to popular over-the-top (OTT) video services. VAS have become increasingly important in recent years as consumers shed their traditional pay-TV services and opt for broadband as a stand-alone, rather than bundled, service. Pressures on household spending due to COVID-19 may accelerate that trend.
Parks Associates research shows:
Nearly one-half of all broadband households receive a VAS from their service provider
77% of subscribers don't want any service that will increase their monthly bill
Less than one-quarter of broadband households pay an additional fee for their broadband VAS
Anti-virus service is the top VAS tested, with others showing promise among specific consumer segments

Moreover, many ISPs differentiate tiers of services with limits on data consumption – they're temporary lifting of data caps during the COVID-19 crisis may set new consumer expectations. Providers may find their customers particularly resistant to reinstituting data caps once the crisis passes. In such a future, VAS will become even more critical as a tool to acquire new subscribers, earn customer loyalty, and differentiate tiers of service.
Parks Associates Broadband Value-added Services quantifies broadband households awareness, adoption, use, sentiment, and spend on broadband VAS along with interest in specific VAS currently provided by ISPs. It includes trending data assessing the demand for and use of broadband services through Q1 2020, when the COVID-19 crisis had begun in earnest in the U.S., as well as data specifically exploring interest in various VAS from a survey fielded in Q3 2019. Together, this data provides an excellent benchmark on the state of value-added services.
David Drury, Research Director, Parks Associates
David is a research director at Parks Associates bringing over fifteen years of experience in teaming with clients, gaining an understanding of their needs, and leveraging his expertise in research and spatial analytics to provide them intelligence to address their business requirements.
His ability to incorporate the "where" component into his research projects with spatial analytics provides clients with new and valuable insights for making fact-based decisions to increase their revenue.
David earned his BA in Geography with a focus on Geographic Information Systems ("GIS") from the University of North Texas in Denton.
Next: HBO Max, Is This a Good Time to Launch?
Previous: Shift to Online Video Consumption Creates New Strategies for Video Providers

Comments
Be the first to leave a comment.
Post a Comment