What is the User Experience?
by Hunter Sappington | Nov. 28, 2016
Companies often talk about their goals to provide a superior user experience, but what exactly do they mean when they say that? What all does the user experience entail? The user experience (UX) and the user interface (UI) of a product are sometimes referred to interchangeably by ecosystem players—yet the two terms have different meanings.
A user interface is the means by which a user can interact with his or her device or service. Companies are transforming user interfaces to meet consumer preferences for speed, efficiency, convenience, and personalization. On the other hand, the user experience encompasses all aspects of a user's interactions with a product or service from the start of the shopping process to a product's day-to-day use. It includes all aspects of the customer journey and continues throughout the customer lifecycle.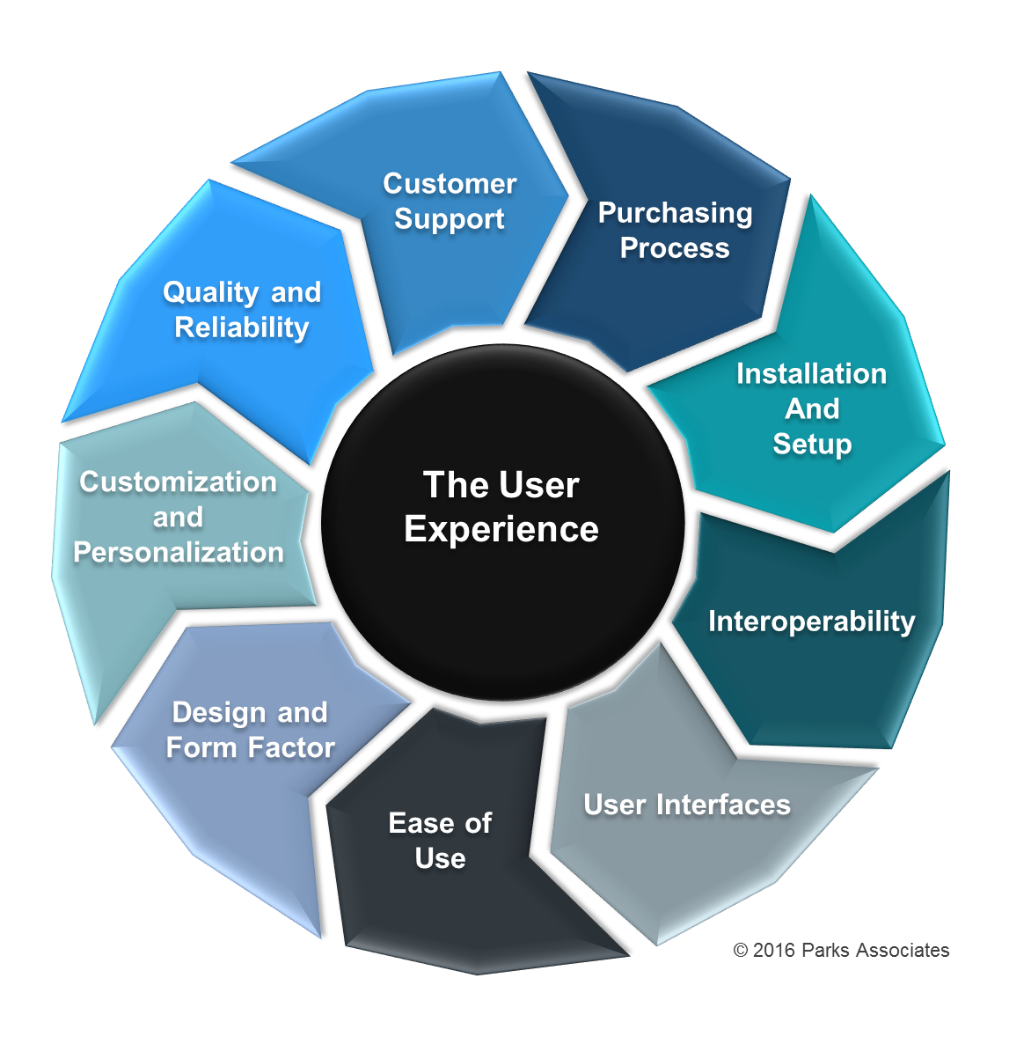 Key aspects of the UX can be divided into the following areas:
Purchasing process—Consumer education and identifying and satisfying consumer needs
Installation and setup—The ease and intuitiveness of the installation process
Interoperability—The extent to which a device can connect to and work in harmony with other connected products
User interface—Methods by which a user can interact with their devices or services
Ease of use—Intuitive and simple usage
Form factors / design—Consumers have different tastes in styles and color and other design elements. A product that is visually attractive can provide long-term satisfaction to users
Customization and personalization—The extent to which a system or device can be specifically tailored to meet an individual's needs
Quality and product/service reliability—How often and consistently a product or service works as expected or advertised
Customer support—The process of supporting a customer's needs throughout the duration of the customer's business with the company

The user interface is an important touchpoint between the end user and the device or service provider, but it is only one piece of the overall user experience. Every component of the UX has an impact on customer satisfaction, retention, repeat business, word-of-mouth recommendations, and the infinite number of possibilities and configurations that inform consumer perspectives and decisions.
For further insight on how each of these areas specifically impact the user experience and how each area is being transformed by new technologies and business models, see my report Transforming the Smart Home User Experience.
Further Reading:
Next: Why Augmented Reality Matters
Previous: Parks Associates is supporting Music + TV + Film = VR

Comments
Be the first to leave a comment.
Post a Comment