US Cloud Gaming Market Stands to Generate Nearly $3B in Annual Subscription Revenue
Recent research conducted by Parks Associates, and captured in the report Cloud Gaming: Demand and Preferences, finds nearly a third of US consumers are interested in cloud gaming and game subscription services. These services, including names such as NVIDIA GeForce NOW, Google Stadia, Microsoft's upcoming Project xCloud, and PlayStation Now, have become hot topics in the gaming space for their attempt to replicate the streaming video service model. With a cloud gaming service, consumers do not need to purchase gaming-specific hardware or download titles in order to play popular games.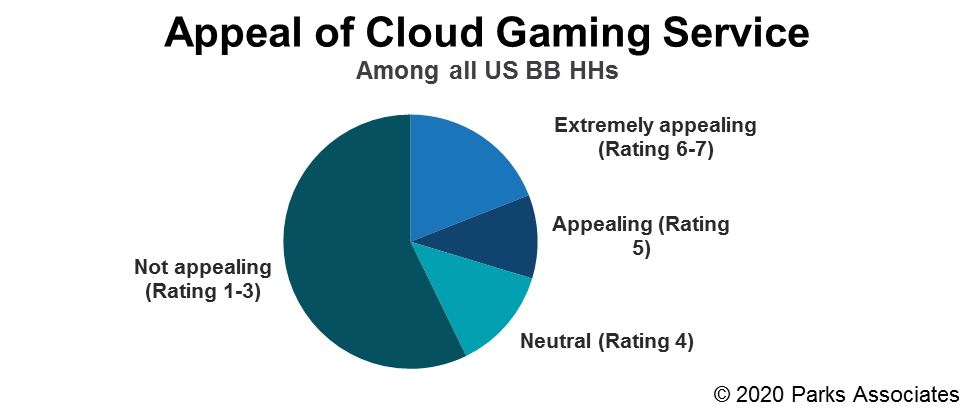 As many services support multi-platform play and seamless device-switching, this category could also prove to be extremely attractive to the over two-thirds of gamers who play games on multiple platforms, and who report particularly high levels of interest in game subscription services.
Cloud gaming stands to benefit mobile service providers, which have historically relied on adoption of new mobile data services to drive mobile service subscriptions and upgrades. As 5G continues to roll out worldwide, the low latency offered by 5G fits very well with the cloud gaming use case.
Overall, the cloud gaming subscriptions and streaming services market is strategically poised for growth. Parks Associates Cloud Gaming: Demand and Preferences finds that today's consumers lack preconceived notions of what an ideal cloud gaming service's business model should be, and are open to various business model types. While Apple and Google offer two of the largest gaming platforms – the iOS and Android app stores on mobile devices – console owners are particularly interested in cloud gaming and game subscriptions, which instead plays to Microsoft and Sony's established user bases. As things stand, it is anyone's market.
Next: Next-Gen CE: Reinventing Consumer Experience with IoT Data
Previous: 2020 Smart Home Risks and Solutions

Comments
Be the first to leave a comment.
Post a Comment