Connected Health at Home: The Next Smart Home Market
COVID-19 has disrupted the entire healthcare ecosystem and flipped the narrative on delivering healthcare in the home. Telehealth services are no longer viewed as peripheral services but central to consumers' ability to access healthcare. Similarly, players across the health ecosystems see new opportunities for connected health devices and remote patient monitoring solutions. Yet, the traditional health care system has struggled to deliver on the promise of consumer-centric care and does not have the assets or experience to provide home services.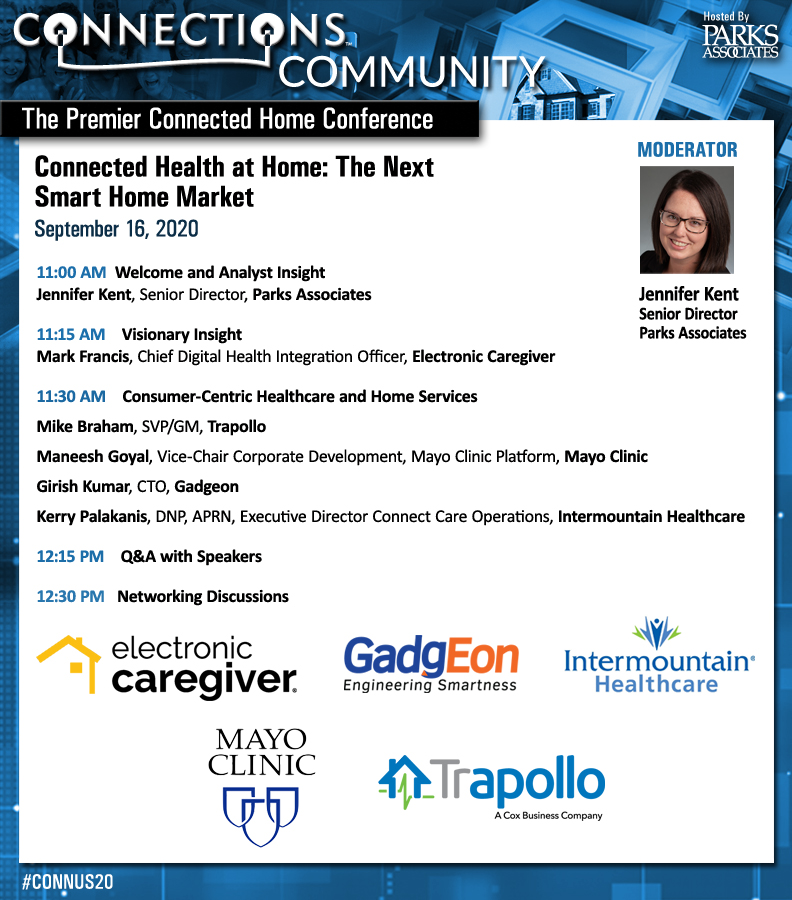 Parks Associates' new CONNECTIONS™ Community is a virtual conference series and networking experience focused on the connected home and IoT industries.
Join us for our upcoming virtual session, Connected Health at Home: The Next Smart Home Market, on Wednesday, September 16, 2020 at 11:00 a.m. CT.
This session explores the opportunities for home service providers and consumer technology leaders to engage with the ecosystem of health systems, providers, and payers to support the next generation of healthcare – connected health at home.
Parks Associates consumer data from a 2Q 2020 survey finds 42% of US broadband households own at least one connected health device, including 28% that own a wearable and 15% with a connected medical device, such as a smart thermometer or wireless CPAP machine.
We appreciate our CONNECTIONS Community Sponsors: Sutherland Global Services, Alarm.com, Bitdefender, Cox, Intellithings, Cirrent, Everise, MMB Networks, ServiceLive, Zen Ecosystems, Firedome, Inspire, Mercku, Z-Wave, Aprilaire, Gadgeon, Sprosty Network, and Wi-Charge.
Click here to view upcoming sessions.
Next: New Apple Watch Capitalizes on Continued Growth in Wearables Market
Previous: A Comprehensive Ecosystem for Healthcare

Comments
Be the first to leave a comment.
Post a Comment