Increasing Consumer Awareness with Tony Mauro, CTO, Plasmatic Technologies, Inc.
Tony Mauro, Chief Technology Officer, Plasmatic Technologies Inc., spoke with Parks Associates' analyst team. giving them insight on what companies can do to increase consumer awareness of smart home products and services, what consumers fear most about adopting smart home products, and what role voice has played in companies such as Amazon, Apple and Google.
Tony will participate on the session, Creating Compelling IoT Services with AI and Data Analytics, at Parks Associates' CONNECTIONS Summit: Engaging Consumers: IoT and the Smart Home at CES, January 9, in Las Vegas. The session will be held Tuesday, at 3:15 PM, and will also feature the following participants:
Amena Ali, CRO, Whisker Labs
Pamela Hoppel, Senior Director, Product Marketing, Carrier Inc.
Aditya Pendyala, Co-founder & Head of Growth, mnubo
Jeremy Warren, Chief Technology Officer, Vivint Smart Home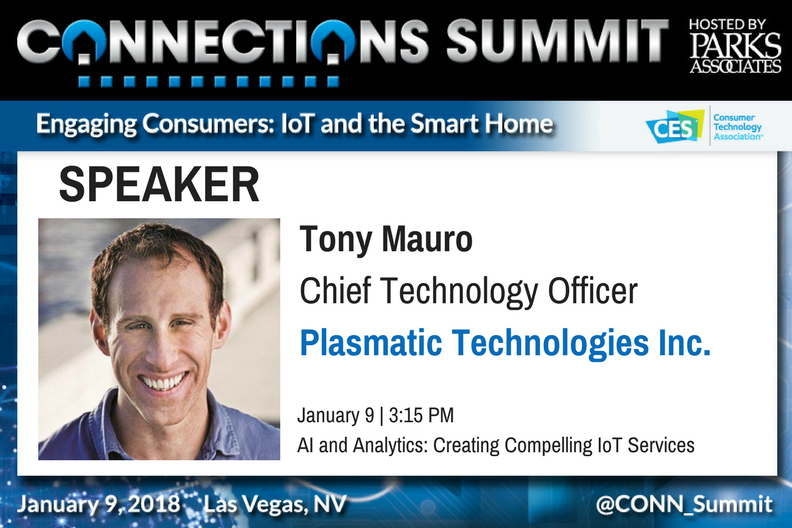 Q. What can companies do to increase consumer awareness of smart home products and services?
A. In general terms people buy products for two main reasons, vanity or usefulness. It seems that the connected home space right now still prioritizes vanity over utility, where highly motivated technophile early adopters purchase and install their devices to feel accomplished or brag about how high tech their homes are. This works for innovators, prosumers or other tech enthusiasts, but to reach broader segments of consumers, companies need to communicate a clear value prop and deliver a tangible use case that extends beyond novelty. Smart home offerings centered around security have been the most successful so far, case in point developments by Ring and Nest. Concern for safety, or should I say the quest for peace of mind is universal, compared to solutions that hinge on an eco-friendly proposition, which may have a more relevant appeal in geographies such as the US states of California and New York, where energy expenses are material for the average homeowner.
Interoperability of smart home devices is also key to usability! The connected home, much like the Internet should be about providing an integrated customer experience through the sharing data and functionality, not delivering isolated interactions be these data silos or endless single purpose apps. A person has to trust that if they buy product A at Best Buy, they'll be able to use it with product B from Amazon and maybe others they picked up at Home Depot. Even despite the popularity of "smart" speakers by Amazon, Google and others the utility of those voice interfaces is limited and many families will refuse to adopt new smart home technologies because these have much room to improve and most notably are largely incompatible with any investments they made in their existing devices. When products are designed with interoperability in mind, any improvement in one part of the ecosystem benefits the entire home. After all, a rising tide lifts all boats.
Q. What role has voice played in the rise of Amazon, Google, and Apple in smart home ecosystem dominance?
A. Voice makes smart homes personable, increase comfort and facilitate convenience for carrying out certain tasks when our hands are tied or we're just too tired. Previously, home owners had to get off their seat and walk across a room to turn a light on or off. The user experience improved with the first wave of smart lights, where home owners could control their lights from wherever they were. But with voice assistants, you just talk, as easily as if telling your collaborative child to get the switch for you. Apps are useful, but still require a bit of a learning curve. Voice is how we have communicated for thousands of years, so consumers adopt it much faster.
While improved user experience is always important, Google and Amazon make the best use of their voice assistants through the data they collect. Every single product search and preferred setting augments the rest of the Google and Amazon experience. While Apple was the first to market with Siri, and has integrated it with their new homekit, the company's exclusive system does not allow for much growth in user experience. Again, that interoperability aspect is key to even faster adoption in the smart home market. So Google and Amazon's ability to use voice to connect to any device are key to their dominance.
New voice assistants like Samsung's Bixby are quite late to the game and even Microsoft's Cortana adoption despite its presence on all Windows 10 devices has been limited. Accounting for Amazon, Apple and Google there are already three solutions who are willing to work with other devices, another one, particularly if it is forced on users as the only voice interface for some devices will just fragment the market more. Devices need to function together for a seamless user experience. When you split the user experience, you build resistance to adoption.
Q. What do consumers fear most when adopting smart home products and services?
A. Consumers fear what they are told to. The media has sensationalized every privacy hiccup, data leak, and hacked camera. IoT is topical, so they do all that to get the views without having to supply context that allows the average consumer to understand the actual low probability of risk. Most consumers will not even know about connected home services yet, since the mainstream media has not reported on the few that are surfacing.
Some might fear obsolescence. With such rapid growth in the connected home market right now, buying an item today may mean a newer, better version in six months. Unlike phones and laptops, where users flock to each year's newest offerings, homeowners think that things in the home are meant to stay, like furniture or appliances.
And of course, customers fear unpredictable cost, especially when worked into service fees spread across their devices. As the market grows and options diversify, eventually either prices will drop with commoditization or value will be added to justify device and service pricing.
For more information on CONNECTIONS Summit at CES, visit: www.connectionssummit.com.
Next: Speaker Insights with Matthew Swatsky, VP-Residential Mid-Market Business, Lutron Electronics
Previous: Thomas Rockmann, VP Connected Home, Deutsche Telekom AG, Adresses Privacy, Security, and Smart Home Product Adoption

Comments
Be the first to leave a comment.
Post a Comment