Understanding and Combatting OTT Churn
OTT service churn reached 35% in 2019, up from 28% in 2018. As the OTT video market evolves and becomes more competitive, service providers are increasingly focused on engaging and keeping their subscribers and less focused on simply acquiring them. Because of this, customer engagement has become a critical element of success for video services. Service providers are using a variety of tools, incentives, and strategic partnerships to drive subscriber or viewer engagement and grow their brands.
This upcoming Tuesday, March 17, Parks Associates will examine strategies for OTT services to counter churn and attract new viewers during the complimentary webcast, "Driving Engagement and Reducing Churn in OTT" cohosted with Swrve.

Webcast participants will have the opportunity to:
Understand the key marketplace factors and trends driving OTT service engagement and customer churn.
See how OTT providers are achieving measurable value through focused customer engagement initiatives
Learn strategies to increase engagement in the video consumer journey: initial interaction before subscribing or viewing of the service starts, when a free trial or promotional period ends, after a popular series ends, and during a long period of customer inactivity.
Understand the best practices of customer engagement strategies

Register to attend the webcast today: http://www.parksassociates.com/swrve-mar2020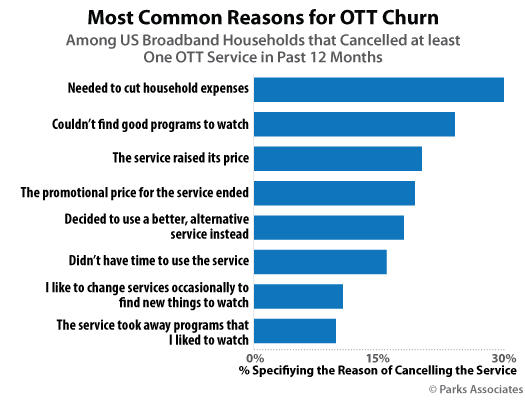 Additional Parks Associates research shows:
OTT service churn (including vMPVD's), calculated as the percentage of a service's current subscriber base that cancelled in the last 12 months, was 35% in 2019, up 7 points from the previous year.
Churn among vMVPD's alone was 81% in 2019.
Compared to high churn rates among OTT services and vMVPD's, the churn rate among traditional pay-TV providers is under 4%.
Churn among top subscription OTT services such as Netflix, Amazon Prime Video and Hulu is considerably less than those of smaller services such as ESPN+, STARZ, and CBS All Access, which experienced rates of 50% or more in 2019.
Cost considerations are the top driver of OTT subscription cancellations followed by a lack of good programming and the end of a promotional period.

"Overcoming high churn and driving engagement are notable challenges for video service providers, especially as the market becomes more saturated and penetration rates slow," said Steve Nason, Research Director, Parks Associates. "OTT services are offering free trials and promotional offers to drive initial service uptake, but these tactics are also leading to sky-high churn rates. To secure long-term subscriber fidelity, providers need to offer more, including original content and a personalized user experience."
To register for the webcast, visit http://www.parksassociates.com/swrve-mar2020. For more information on the webcast and Swrve, go to https://blog.swrve.com/webinar-parks-associates-march-2020.
Next: Broadband becomes even more critical to households with shelter-in-place orders
Previous: The Impact of vMVPD Services in the Pay-TV Industry

Comments
Be the first to leave a comment.
Post a Comment