Uncertainty in the Future of OTT and Original Programming
by Seth D. Yockey | Nov. 6, 2019
Over-the-Top (OTT) video streaming services compete based on content. User experience, price, brand and marketing are all important, but consumers pay for services in order to have something to watch. Increasingly, services are relying on exclusive or original content as a key success factor. Escalating investment in original content continues as services seek sustainable differentiation. At the same time, TV networks are launching their own OTT services, often with content that they might have previously licensed to OTT companies in the past.
Parks Associates survey data confirm programming content is a major factor when it comes to customer's opinions of their OTT service. Programming is mentioned in four of the top five most cited reasons customers are likely to recommend their OTT service, with 17% of people citing original programming as their top reason.
Most Cited Reasons Customers Would Recommend OTT Services
1. Has a wide variety of programming
2. Easy to find something to watch
3. Has good original programming
4. Has a genre of programs I like to watch
5. Regularly adds new programs
Consumer enthusiasm for original programming is a primary reason for consumers to recommend OTT services from recognized TV network brands like HBO, CBS, and Showtime. These services have relied on a few high profile original series to drive attention, and subscriptions, to their direct-to-consumer services. HBO is able to capitalize on programming which gained a following on pay-TV, and CBS has revived well-established brands for OTT-exclusive programming like The Twilight Zone and Star Trek.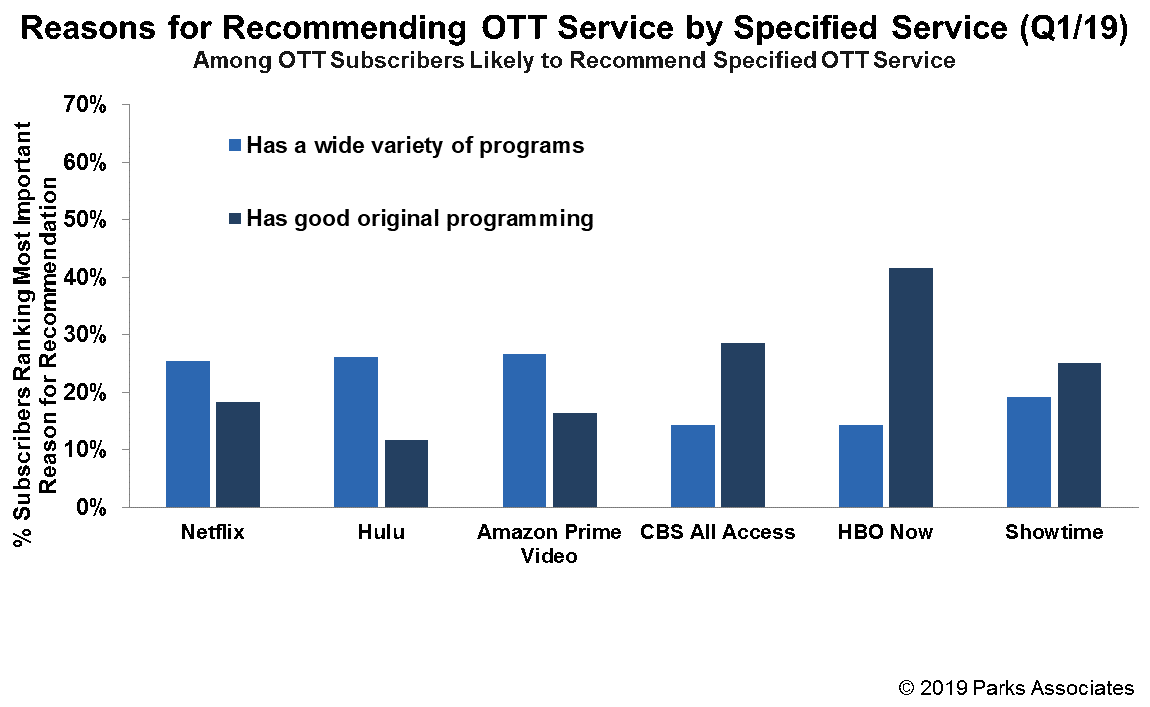 The big three, Netflix, Amazon Prime Video, and Hulu, serve larger audiences and need more programming variety to appeal to everyone. This fact is reflected in their consumer recommendations largely being based on their breadth of content. Surprisingly this pattern even holds true for Netflix, despite the popularity of its original programming. But it also implies their appeal to consumers could diminish if they lose third-party programming and fail to match its appeal with original-programming.
The risk for Netflix, Amazon and Hulu is waning subscriptions as third-party content migrates to other platforms. If this were to occur, the increased need to fund programming would come at the same time as revenues start to shrink.
Existing TV networks face risks of their own. Parks Associates research estimates the average lifetime revenue from a pay-TV subscriber is over ten times higher than what is generated by SVOD services. If this revenue does not shift to subscription OTT services from pay TV, the result is a net decrease in consumer-paid revenues into the ecosystem. The value of pay-TV advertisement slots will dwindle as well with declining viewership.
Both leading OTT services and TV networks ultimately have the same goal—to have content compelling enough to drive views and generate revenue whether it's from licensing, subscriptions, or advertisements. Changes in who is creating content and where it is being distributed have created an uncertain situation for all involved. The ability to create or acquire a broad catalogue of content will be a significant predictor of long-term success in this market.
This current trend, and others relating to churn and subscriber lifetime value can be seen in a new 360 Deep Dive from Parks Associates, Churn, Retention, and Lifetime Value for OTT Video. Additionally, if you are interested in discussions such as these, it may be worthwhile to attend the second annual Future of Video conference hosted by Parks Associates in LA from December 9-11.
Further Reading:
Next: The Greatest Disruption to the Entertainment Industry - Insights from Akamai
Previous: Key Takeaways from AT&T SHAPE 2019

Comments
Be the first to leave a comment.
Post a Comment