U.S. Internet Population now 220m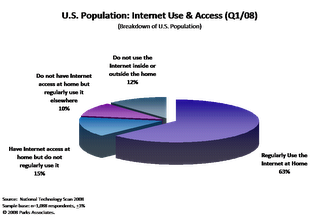 The results of Parks Associates National Technology Scan 2008 show that there are now 220m Internet users in the United States including ~30m that only access the Internet outside the home (at work, school, libraries, etc.). The 80m Americans that do not use the Internet are largely split between the very old and the very young. Nearly 20m of the non-users, for example, are children under the age of 9 that live in homes with Internet access. These individuals will presumably start using the Internet as they grow older. At the same time, nearly 40% of all children age 9 and under regularly do use the Internet at home. Interesting results indeed.
Next: Cable and Satellite Customer Satisfaction Ratings
Previous: CBS Snatched CNET

Comments
Be the first to leave a comment.
Post a Comment