U.S. Department of Commerce, Austin Energy to keynote Smart Energy Summit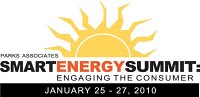 International research firm Parks Associates announced executives from Austin Energy and the National Institute of Standards and Technology (NIST) will keynote the Smart Energy Summit: Engaging the Consumer. The two keynotes provide unique perspectives from business and governmental sides of the residential energy management (REM) industry, offering expert insight on successful deployment strategies and the impact of U.S. funding for smart grid projects.
Recently, the Department of Energy (DOE) announced over $3 billion in funding for smart grid projects, with matching private-sector funds pushing the total over $8 billion. This funding has implications for technology developers, utilities, and end users, and today there is the right mix of government incentive, competition, and societal pressure to make smart energy solutions viable.
Dr. George W. Arnold, National Coordinator for Smart Grid Interoperability, NIST, U.S. Department of Commerce, will be the luncheon keynote on Tuesday, January 26. He will provide insight into government initiatives for promoting smart grid projects.
Andres Carvallo, CIO, Austin Energy, will present the morning keynote "A New Journey: Utility 2.0" on January 26. He will share his vision of the utility of the future, informed by his company's experiences developing and deploying its Smart Grid. Mr. Carvallo will also highlight new business models and technologies designed to transform consumers into "prosumers" - producers and consumers all in one.
For more information, visit www.energysmartsummit2010.com
Next: Parks Associates welcomes Smart Energy Summit Sponsors
Previous: Smart Energy Summit to focus on in-home energy management and control solutions

Comments
Be the first to leave a comment.
Post a Comment