The Smart Home and the New Normal - Mercku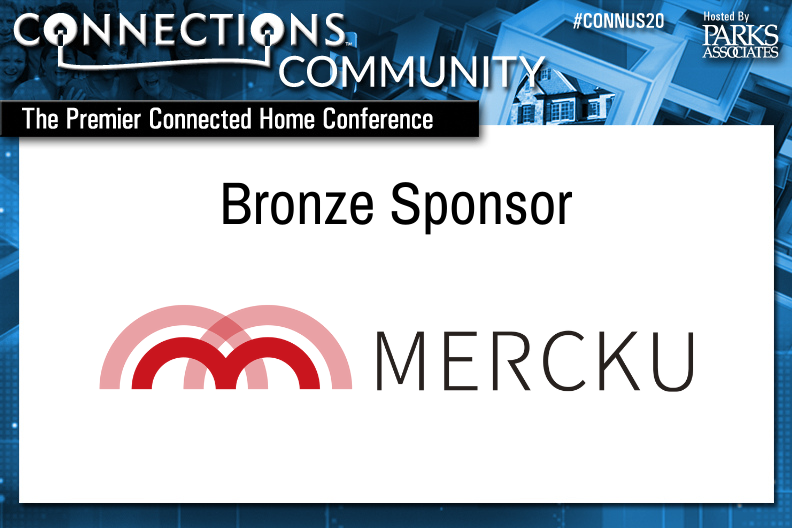 This year, Parks Associates will host the 24th-annual CONNECTIONS™: The Premier Connected Home Conference online, as part of the virtual CONNECTIONS Community. The executive research conference includes presentations from Parks Associates' leading analysts and visionary sessions featuring executives in the connected entertainment and digital home technology industries.
Ahead of the conference, we asked one of our sponsors, Mercku, to share their insights with us on how the smart home will evolve in the face of our new normal:
What do you anticipate the impact of Covid-19 to be for the smart home industry, in the short term and long term?

Short-term: Consumers finally understand and appreciate the value that a smart home is providing! When spending a lot of time inside our homes, it's great to have more convenience, better entertainment, improved security, all at the tip of our fingers! That is why consumers will likely be making their homes smarter as they spend more time working and studying from home.

Long-term: There will be a surge in smart home devices focused on the health and wellness of their users as it relates to the spread of viruses. Smarter networks will need to be able to support more devices simultaneously as we move towards the era of 100-device homes and the 100-year generation.
*(Sikesui is good inspiration the 100-year generation topic! https://www.youtube.com/watch?v=Q80EpCvv31c)

As the number of connected devices in consumers' lives increase each year, what solutions need to be created to allay rising consumer concerns around data security and privacy?

It is paramount that open networks coming from appliances such as smart fridges or smart washer/dryers do not act as backdoors for bad actors to take over networks. In addition to high-level security, companies need to continue to remain vigilant and educated during the world's cybersecurity arms race. Being able to detect when one smart device is compromised will be crucial to ensure the security of the rest of the network.

Sadly 100% security will never be possible to achieve, but leveraging end-to-end platforms (such as Bitdefender, Allot, McAfee), Blockchain-based data logistics, and continuous user education can help!

With the rollout of 5G technologies nearing, what impact will this technology have on connected consumers?
Faster cellular internet speeds promise to provide the highway for new technologies and applications, many of which we have not even thought about yet. Who knew that 4G would help to create companies like Google and Facebook? Technologies like autonomous vehicles, augmented and virtual reality, telehealth, and many more will see more enablement with 5G. For our homes, 5G will empower those who lack good internet infrastructure and allow those who already benefit from this infrastructure to operate outside of it more than ever before. Although it may be quite some time until it becomes widespread, it will allow those with 5G access do things previously thought impossible.

As the smart home experience expands outside the home, how will the role of the car evolve as part of the smart home ecosystem?
Smart homes and smart cars will synchronize to increase the end-user's quality of life by adding additional layers of security and convenience. Already almost a decade ago we observed for example the potential to leverage batteries of electric cars to serve as storage for renewable energies at home, smartly charging or discharging when needed. Collaboration opportunities like this will increase further, powered by all the new capabilities of both our homes and our cars. They can be truly connected, helping to save time, save resources, provide more convenience, and a customized experience.
As the smart home ecosystem further develops, so too will the smart car's capabilities. For example, Mercku is rolling out in presence detection with vital sign monitoring, and if there is a present or looming danger such as the driver losing consciousness or an intruder attempting to break into the vehicle
What is necessary to build a seamless smart home experience that crosses brands, platforms, and ecosystems?
It is required to shift the understanding of our homes towards a concept like cars, or computers, or phones. All three examples have central operation and control units, that operate on communication standards and platforms. This logic enables seamless integration of millions of different software and hardware applications, all working together.
The home ecosystem is extremely scattered, with many manufacturers and companies working on their own standards, and no central platform has been developed yet. We do not believe that this central unit should be controlled or owned by one company, but rather a union of many players with the vision of enhancing the home experience.
Unless all elements in the smart home ecosystem can share information efficiently, the experience risks being a frustrating and potentially even dangerous one
What impact will emerging technologies like AI, machine learning, and blockchain have on the smart home? What are the associated challenges with implementing these technologies in the home?

We see our homes as the last frontier in our lives that have not turned truly smart yet. Even though we often talk about smart homes, in reality, they are just connected. Our homes are not even smart enough to know what is happening inside them, which makes it impossible to create true automation, or even autonomy.
With emerging technologies now entering our homes, we see that our homes are moving up on the next level towards being autonomous. With the AI of smart speakers, our homes are now equipped with over a 100,000 new skills, that link hundreds of thousands of devices together. This was impossible just a decade ago. New IoT and sensor applications have the potential to provide a "home GPS navigation" that can further drive automation. Once applications move on the blockchain, the fear of privacy intrusion and data theft, for example through hacked cameras, will be diminished to a minimum.
The challenge is to build the right business model around this ecosystem, to make it attractive for the user, and viable for the creator.

How will service providers adapt to the "new normal"?
Given the shifts in office work and education from analog to online platforms, service providers of all kinds but especially internet service providers, will need to be able to empower their subscribers to work and study from home. To accomplish this, internet speeds and infrastructure will need to improve, especially in rural and low-income areas. We have identified over ten trends that ISPs are leveraging to adapt and succeed. For example, remote control and management are a must to cope with rising cost, customer service, and usage pressures. Another example is turning subscribers self-sufficient, with easy-to-install, easy-to-learn, and easy-to-fix solutions. Or creating no-touch services, that avoid customers to require technicians enter their home, and at the same time speeding up the new connection time!
What innovations have you seen that will address the existing needs of the elderly to enable independent living in the smart home?
This in fact is probably one of the most important, positive outcomes of this global pandemic, where governments, insurances, doctors, corporates, and the elderly finally accept digital and tele-health solutions to our global aging-society problem. It is simply impossible to provide care for every person in a hospital, and it is impossible to track progress with no technology applied. And even more, people don't even want to go to hospitals or elderly care homes, they just want to stay in their familiar environment, reducing stress and anxiety. That is why, the concept of the smart home caring for our elderly is a lovely dream finally coming true.

For example, Mercku itself is innovating in the field of caring for the elderly with WiSe , our wireless sensing technology. Without wearables, smart home users of all ages can have their vital signs monitored at all times. If there were to be a medical emergency, it would be made known to the user and the parties of their choice, whether that is a caretaker, family member, or medical professionals. By using this technology, seniors living alone will be able to ensure their piece of mind and avoid needing full-time care
How will the continued rise of DIY security expand the smart home? What challenges will DIY players face in 2020 and beyond?
We are happy to see, that with DIY solutions, many more homes can improve the security levels at home, protecting loved ones. We do not see this trend stopping, but rather see security turning into a standard feature of every home in the world, the same as airbags are in cars. It might prove difficult to integrate and synergize technologies designed by different parties and running on different platforms, but this goal is certainly worthwhile.

What new energy management scenarios are emerging from industry partnerships and crossover use cases?
As the years go by, we are seeing more and more devices using less and less energy and bandwidth thanks to a variety of methods such as Target Wake Time (TWT) and Beamforming. These smart technologies can help to safe scarce energy resources, and positively contribute to the reduction of climate change.
What strategies are needed to achieve a unified experience in the home for consumers between smart home and connected entertainment products and services?
Each smart home having a Smart Home Operating system, similar to the ones on laptops or smartphones, will help synchronize smart devices so that they are all working in harmony.

Next: Samsung Takes on Home Energy Management
Previous: COVID-19: Impact on Consumer Technologies

Comments
Be the first to leave a comment.
Post a Comment