The New Business Model - Insights from IOTAS on COVID-19 Effects on the Residential Space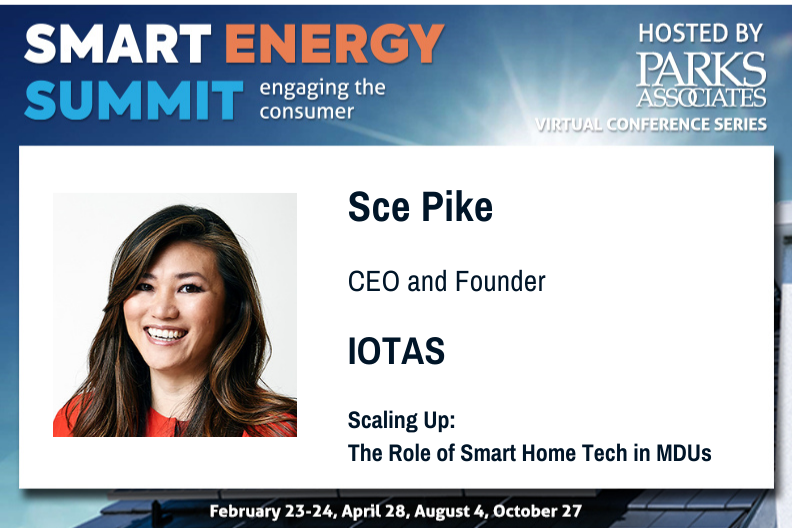 Parks Associates continues its 2021 virtual Smart Energy Summit with a session on April 28, MDUs: Leveraging Proptech for Smart Energy Management. Sce Pike, CEO and Founder, IOTAS, will join other industry leaders during the session as an interactive panel member of Scaling Up: The Role of Smart Home Tech in MDUs and will address energy management solutions adopted in the MDU and multifamily environment, including new builds and retrofit, and successful strategies and partnerships in deploying and marketing these solutions. Prior to the session, Sce provided insights on the new business models and offerings in the residential space as a result of COVID-19:
What challenges is your organization working to overcome in 2021?
Scaling to meet the needs of a rapidly growing Smart Property market and the number of partners we work with. Along with increasing partnerships, we've been investing in educational opportunities for our users and customers, as well as white glove services.
What new business models and offerings are being deployed in the residential space?
Thanks to Covid-19 and the shift towards working from home, residents are seeing the need for reliable wifi that they can easily access. Managed Wi-fi provided by properties is one easy solution that several owners, developers and operators are adapting. Along that vein, going touchless or low touch has seen an increase in demand for integrations with major voice providers to provide seamless, voice-controlled smart homes upon move-in.
Join us this year for our Smart Energy Summit! Register now.

Next: Parks Associates' Smart Energy Summit Returns with Insights on Grid Management
Previous: Smart Energy Summit continues with "MDUs: Leveraging Proptech for Smart Energy Management"

Comments
Be the first to leave a comment.
Post a Comment