The Mystic Apple Watch Sales Figures: Here are Our Estimates…
by Harry Wang | Feb. 1, 2017
Apple recently released its holiday quarter's earnings. Although the blockbuster sales of iPhones dominated the headlines, analysts and pundits were also drawn into the debate about the health of Apple's smart watch business. Since Apple does not disclose its sales figures and only provided vague qualitative comments about this line of business, estimates and guestimates are all over the place. We have our take as well, outlined below, based on a slew of data from primary sources—Apple's financials and our consumer survey data—and secondary sources—clues from third-party data and retail channel information.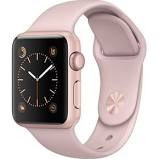 4Q 2016
Total unit sales of Apple Watches: 6.5 million
Total Apple Watch business revenues: $2.3 Billion
Average selling price: $355
Full-Year 2016:
Total unit sales of Apple Watches: 12 million
Total Apple Watch business revenues: $4.7 Billion
Our unit sales estimates for both 4Q16 and full-year 2016 are perhaps at the high-end of the range I've seen on the market. From volume perspective, 4Q16 sales are 46% higher than 4Q15, in our estimates. But the full-year 2016 volume is only 7% higher than our estimates of 2015 unit sales. That's because Apple Watch sales hit a lull in 2Q/3Q16, dropping 45% and 53% in volume respectively year-over-year. 4Q16 sales definitely benefited from the launch of new watch models(series 2), discounting on the original Apple Watch models, and new Apple Watch Series 1 that keeps the original Apple Watch's form factor, but with upgraded software and lowered pricing. Our consumer survey data (which ended on Dec 16, 2016) revealed that the new Apple Watch Series 2 is as popular as previous-generation models. Even though Apple Watch Series 2 has been on the market for only four months (since late September), its adoption is neck-and-neck with Series 1 and older Apple Watches. Our consumer survey data also persuaded me to conclude that 40% of Apple Watch Series 2 sales in 4Q16 were from overseas markets.
After Apple's earnings release, many Apple analysts were perplexed by the seemingly contradiciting facts against Apple's statement about Apple Watch sales. People were asking, "How can Apple's CEO claim the best Apple Watch quarter in units and revenues, while the financial reporting segment that includes Watch products (the 'Other Products' segment) report a year-over-year decline?" My answer is that the iPod had a really bad quarter, new wireless AirPod sales were constrained by Apple's supply issue and late launch in the quarter, and the Beats headphone business was probably doing just okay. The net result was that Apple Watch sales (including accessories) in 4Q16 were more than 50% of this segment revenue for the first time. In our model, the Watch business is 58% of segment revenues in 4Q16, up from 32% in 3Q16 and 47% in 4Q15.
That's all I can share at this time and your feedback is welcomed. We can have a healthy debate about our data and estimates given that no one, other than Apple, truly knows how good the Watch business is.
We offer deep insights into major Digital Platform players' business metrics on a quarterly basis because these players (i.e., Apple, Google, Microsoft, Amazon) have so much to offer to consumers but share very little how well they perform in each digital business. Part of our job is to help our clients understand at the micro-level how these giants are disrupting the digital marketplace, one business at a time.
And our upcoming smart watch consumer data (from the 4Q16 survey I mentioned) will shed more light on the overall health of the smart watch industry in the U.S., including brand market shares and consumer purchase drivers. So stay tuned.
Further Reading:
Next: Sharing Economy Apps Disrupting Traditional Markets
Previous: TIDAL and Sprint: New Music Streaming Partnerships

Comments
Be the first to leave a comment.
Post a Comment