The Impact of OTT Services on the Pay-TV Industry
by Julia Homier | Jan. 23, 2014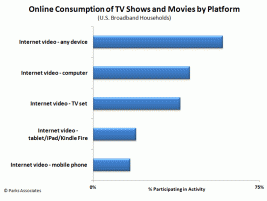 Online video services originally provided access to user generated videos, and commercially-produced content. These types of videos continue to be popular, but services are now specializing in premium, full-length content, such as TV shows and movies. "OTT in a Pay-TV World," the newest report from Parks Associates, addresses why the user experience of OTT services is critical.
This report analyzes trends and market dynamics for OTT services and the implications for the pay-TV industry. The report examines consumption of and attitudes towards OTT services, the new competitive environment in OTT, business models and content licensing issues, and moves by operators to offer pure OTT services to consumers who are not their pay-TV subscribers. It reveals which consumers are using multiscreen services and provides a forecast for future services.
For more information, click here.
Next: Is 2014 the Year that We Break the Internet?
Previous: How long must consumers endure authenticated video?

Comments
Be the first to leave a comment.
Post a Comment