The Impact of Children on Adoption of Connected Health and Wellness Devices
by Harry Wang | Dec. 26, 2016
New research from Parks Associates shows that among those of child-rearing age, the presence of children at home correlates with higher adoption of health and wellness devices. In general, adoption of wellness/fitness devices is highest among the young, those with high incomes, and those with children living at home.
Almost 40% of those ages 18-24 own a wellness/fitness device, compared to 30% of the general population.
41% of households earning $100k or more annually own wellness/fitness devices.
39% of respondents between the ages of 25 and 50 who have children living at home own wellness/fitness devices.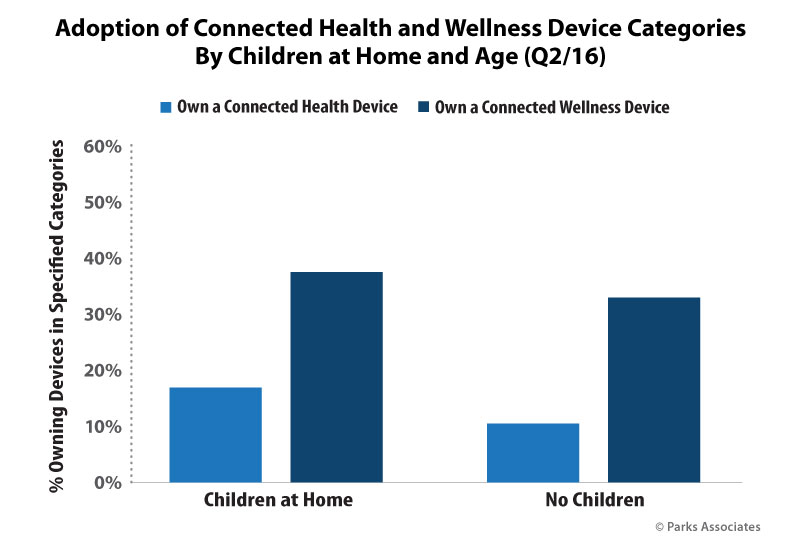 This 360 View Update, Connected Health Devices and Apps: Quantifying the "Quantified Self", presents an overview of health and wellness device adoption and usage. It examines factors related to fitness activity tracking, frequency of device use, and rates of abandonment. A drilldown section analyzes consumer use of the most common fitness tracking apps, looking at factors such as fitness activity features and device usage during sports activities. The research pays special attention to daily app and device users and users of multiple fitness apps. For more information: http://www.parksassociates.com/marketfocus/connected-health-quantified-self
Next: Apple and Fitbit: Avoiding the Dip in the Wearables Market
Previous: Biometric information from wearable sensors to have significant impact on connected health: Insights from A&D Medical

Comments
Be the first to leave a comment.
Post a Comment