The connected car game: Telcos are big winners
by Tu Skuse | Jan. 23, 2017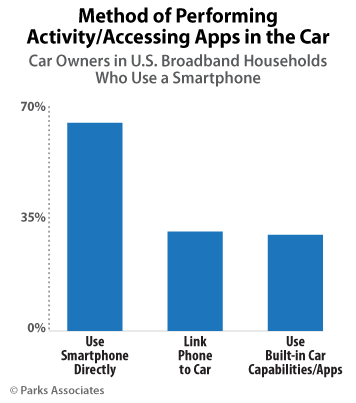 2017 has arrived. Among all the counting-downs and summing-ups is the exciting acceleration of the connected car industry: Parks Associates forecasts that by 2021, over 60% of all vehicles on the road will have an Internet connectivity solution. This industry is growing to have hundreds of billions of dollars in revenue; but where does the money go?
Mobile Network Operators (MNOs) in particular are positioned well to benefit from this growing market and are putting more marketing dollars behind their connected car initiatives. One of these initiatives is their launch of aftermarket connectivity solutions. Verizon's HUM and AT&T's Connected Car pitched their solutions' ability to provide peace of mind and control to drivers, and even cost savings. Telcos are in for many new opportunities.
One reason to think these aftermarket devices will be a success is that they accommodate consumer demand for constant connectivity. In addition, these aftermarket devices' data can be added into customers' existing mobile plan. According to Parks Associates' latest report on connected cars, 62% of U.S. broadband households surveyed would prefer to pay for in-car Internet as a bundle with their mobile service rather than a separate bill (either from mobile service providers or automakers). Preference for bundled billing is a consumer demand that network operators can leverage to have an advantage over vehicle-provided connectivity, which often is limited to their exclusive contracts with mobile networks. Further, MNOs can offer larger data and storage packages as more consumers use an Internet connection while driving. According to Parks Associates, U.S. car owners perform many data-required activities while driving, such as accessing music apps (40%), social networking apps (36%) or browsing the Web (39%). These activities demand more data on the go, and telcos can meet this demand.
Other than expanding existing services and hardware sales, doors are also opening to new income streams for telcos. Since connected car aftermarket devices can access vehicle data, telcos providing these devices can collaborate with automakers to provide automakers with real-time vehicle health in exchange for a fee. With such a collaboration, automakers or MNOs can then send consumers notifications when their vehicle is due for an oil change, and car maintenance issue can be sent automatically to a mechanic or a dealership in exchange for a referral fee. With automatic appointment booking. No more windshield oil change reminder stickers!
Another collaboration available for telcos, though perhaps not a direct revenue-producing one, is with auto insurers. Connected car devices can provide crash detection alerts to insurance companies, which can be followed by immediate emergency service contact. The devices can also provide live visualization of incidents, record damages, capture other parties' contact details, book a repair, and suggests rental cars on connected smartphones. Most important of all, connected car services can submit claims to consumers' auto insurers. Though this service does not directly earn additional revenues for MNOs, these features can attract more consumers to telcos' value-added connected cars service and drive hardware device sales due to consumer benefits: saved time on insurance claims and reduced frustration that comes with filing a claim.
Monetary profit is not the only thing telcos are receiving from connected car cervices. MNOs can also collect a treasure chest full of data from connected drivers and vehicles. Previously, MNOs could collect data on how consumers use their phones; now MNOs can acquire data on consumers' car behaviors. The data on in-car behaviors provides telcos the tools they need to further tailor their service packages, direct targeted marketing campaigns, and develop new products.
According to Parks Associates, in Q2 of 2016, those who routinely perform activities that require an Internet or mobile connection while driving are 13% more likely than all car owners to purchase a new car in the next year. While this might negatively impact telcos' aftermarket device sales, it also suggests that there is a market demand for aftermarket connectivity products. For more information, read Parks Associates' Connected Cars: Balancing a Rich Driving Experience with Safety.
Further Reading:
Next: TIDAL and Sprint: New Music Streaming Partnerships
Previous: Top 10 Consumer IoT Trends: Wearables expanding as healthcare tools and other IoT applications

Comments
Be the first to leave a comment.
Post a Comment