Subscription OTT Video Services – Who's On-the-Top?
OTT video service popularity is still on the rise over 10 years after its debut. Parks Associates shows that there are now over 200 service options to choose from in the U.S. alone. While there are clear leaders in the industry, like Hulu, Netflix, and Amazon's Prime Video, the remaining competitors are still battling for a spot on the top 10 list.
Parks Associates recently released its 2018 update to the top 10 OTT contenders in its OTT Video Market Tracker and it seems that there have been some changes in the ranks.
After nearly 2 years on the market, AT&T's DIRECTV Now has earned a spot on the top 10 list. HBO Now and Starz moved up to #4 and #5, respectively, knocking the only sports streaming service, MLB.TV, down to #6. According to Brett Sappington, Senior Director of Research at Parks Associates, the increase in popularity for service offerings like Starz, Showtime, and HBO Now is due to their offerings of original content and may be an indication of success for upcoming services from DC Comics and Disney.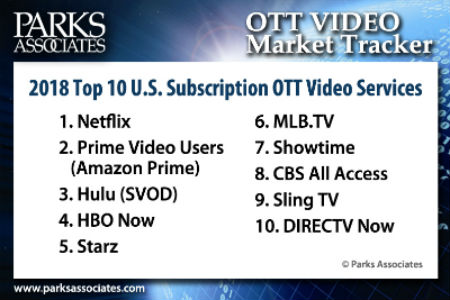 The OTT Video Market Tracker features a new way to blend company profiles with industry research data and analysis of competing players' strengths and weaknesses. This annual subscription service is available on a quarterly or monthly basis. Contact Parks Associates today to learn more.
Further Reading:
Next: Virtual Reality continues Steady Growth at CES 2019
Previous: As AT&T Moves Deeper into Content Space, Verizon Focused on Network

Comments
Be the first to leave a comment.
Post a Comment