Subscription Fatigue: Understanding Consumers' Perception of Value
by Dina Abdelrazik | Jun. 17, 2019
Subscription-based business models cross a number of different industries with companies offering a product or service for a recurring fee. While these models offer a strong value proposition in hopes of an improved customer experience, the plethora of subscription-based offerings in the market offer the potential for subscription fatigue. However, Parks Associates research suggests consumers are not only willing to pay for a subscription—they are willing to pay for multiple services, even premium-priced services—if value is perceived. Among broadband households, 23% subscribe to a professional monitoring security service, 64% subscribe to an OTT service, and 79% subscribe to a pay-TV service.
A key industry that is witnessing a shift in value-driven subscriptions is the pay-TV industry. The percentage of broadband households subscribing to a pay-TV service continues to decline—dropping from 87% in 2014 to 79% in 2018. Alternatively, the number of OTT service subscriptions continues to rise, growing from 55% in 2014 to 64% in 2018. Furthermore, not only is overall OTT subscription increasing, but the number of OTT multi-subscription households continues to increase. Over half of OTT subscribing households subscribe to two or more services. Households subscribing to three or more OTT video services is one of the fastest growing groups among OTT subscribing households, reaching 16% of all broadband households (or 25% of all OTT subscribing households).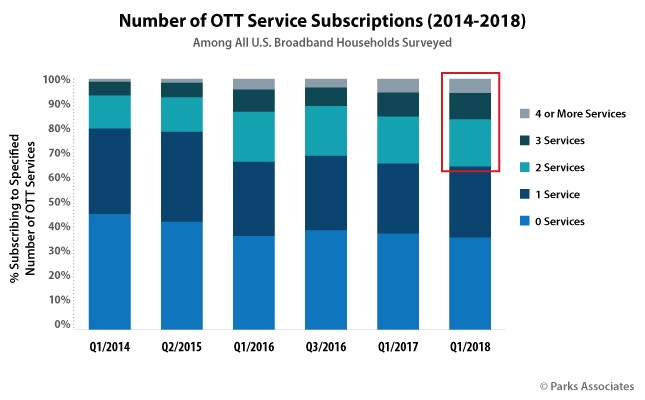 On average, consumers who cancel their pay-TV subscription, or pay-TV cord cutters, subscribe to roughly two OTT services. This illustrates a shift in consumer perceived value—a declining segment of the market perceives value in a pay-TV subscription but is willing to pay for an OTT service.
Among OTT services, premium priced offerings are on the rise, illustrating consumers' willingness to pay for additional or premium features. Netflix subscribers, for instance, are shifting from basic to premium tiers of service.
While Basic, $7.99 per month, and Standard, $9.99 per month, subscriptions are declining, Premium, $11.99 per month, subscriptions are on the rise.
From 2016 to 2018, the percentage of Netflix subscribers opting for a Premium package increased from 18% to 30%.

Netflix's premium service tiers offer HD and 4K content as well as concurrent access by up to four screens. The company's approach to service tiers leverages multi-screen (and household) use of a single subscription as well as increased penetration of 4K TVs among broadband households.
Similar to OTT service subscription packages, the security industry follows a good-better-best pricing subscription model for professional monitoring services. Many security dealers offer good-better-best solutions that include basic monitoring as a good solution, security with interactive services as a better option, and security with interactive services and home control products as a premium offer. The value of offering interactive services and home controls is twofold—dealers can generate additional revenue as well as increase customer engagement with the system to reduce attrition. Dealers are able to achieve roughly $25 worth of additional RMR (recurring monthly revenue) per customer by offering home controls over a basic security monitoring service.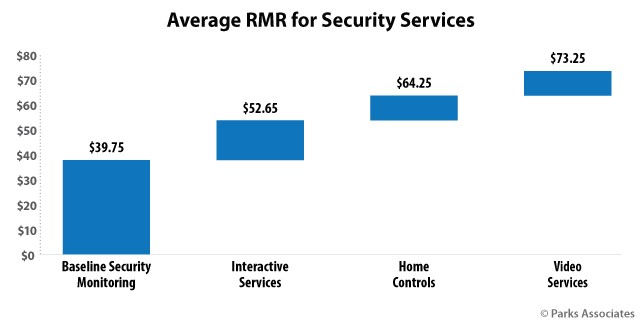 Parks Associates estimates that the percentage of professionally monitored broadband households with interactive services is becoming mainstream—at over 50% in 2017 and growing. As the market for interactive services matures, security dealers must shift their product portfolio. Given that interactive services are now mainstream, eliminating the basic security system offering and shifting interactive services to the value-tier offer will dramatically improve RMR and help smaller dealers compete.
Additionally, security dealers must reposition and rebrand themselves as more than a security provider and into a smart home solutions provider rooted in safety. Since the security industry remains the leading channel for smart home services, security dealers are in a unique position to leverage that strength. Value propositions need to shift from the traditional arming and disarming of a system to peace of mind experiences such as checking if the kids arrived home safely and checking home status at will. Premium—better-best subscriptions with clear value propositions and compelling use cases that resonate and move a consumer—will help expand the market, as well as help a dealer effectively compete.
This content was provided to Security Nation in Nov/Dec. 2018.
Further Reading:
Next: Adoption of Connected Point Solutions and the Advent of Smart Speakers Drive Demand for Smart Home Platforms
Previous: Mass-Market Adoption: Building on Cheers, Overcoming Fears

Comments
George Marchelos wrote

Good article and I agree with you. However, I still think that streaming media companies are doing it all wrong I would love to chat with you about it. The problem with subscriptions is if I subscribe to everything I wanted I'd pay more than what I would pay to Comcast to get the same channels. Why to streaming media companies avoid the usage-based billing model just like my mobile bill? Why can't I pay by the hour, rollover hours I don't use, create a video streaming family plan, pay just for what I watch, etc.? I know the answer is because media and entertainment billing companies only charge by subscription or transaction and have no usage-based capability like telecommunications and mobile carriers. That is their Achilles' heel. What's gonna happen if this model shifts to usage-based economy like all the other markets such as unified communications, IOT, mobile billing, etc? They're going to be screwed. Can you please reach back out to me? Sincerely, George

on Tue Aug 6 19:19:37 2019
Post a Comment