Streaming Media Device Partnerships Driving Alternative Revenue Streams
by Barbara Kraus | Nov. 3, 2015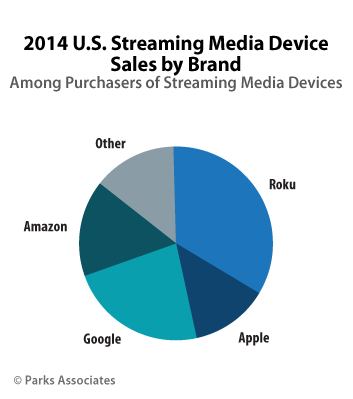 Though the streaming media device industry is a mature industry, it continues to grow. Industry players find themselves in a highly competitive environment, requiring continuous innovation and compelling value propositions to increase both the base and market share. Content, as always, is table stakes for both unit sales and usage. With more popular content apps such as CBS, HBO, and Showtime offered via OTT streaming, there is potential for a continued shift to non-linear TV. In response, streaming media device manufacturers are working with content providers to offer exclusive content and to partner for joint promotions.
For example, Roku has partnered with Sling TV, offering promotions such as a free Roku HDMI Streaming Stick or 50% discount on the purchase of a Roku 3 with a three-month prepaid subscription to Sling TV. Showtime's digital app has gone live on Apple, Roku, Hulu and PlayStation Vue platforms. Showtime is available for $10.99 per month, which includes on-demand access to Showtime programs, library, and live streaming for East and West Coast feeds. Distribution partners are offering a 30-day free trial to Showtime.
Sony PlayStation is the first major device to start its own streaming service, PlayStation Vue. The service is cloud-based and offers live TV, movies, and sports. No contract is required and there are no early termination fees, which differentiates the service from those offered by cable, telco, and satellite operators. As of 2015, a Sony PlayStation is the most-used gaming console for roughly nine million U.S. broadband households, second only to Microsoft Xbox at 9.3 million. That volume provides a strong existing base for marketing.
Apple TV has long tried to enter the content distribution space. Apple was the first CE maker to stream HBO Now with a three-month exclusivity. However, the HBO service could also be streamed through iPhones and iPads and was not exclusive to Apple TV, eliminating a differentiator for the device. In addition, a three-month exclusivity is not likely to motivate consumers to change device brands if they are otherwise satisfied with their current brand. Apple's anticipated streaming service would be more likely to drive unit sales, although the service would also be available on iPhones and iPads, so it would not provide as strong a competitive boost to Apple TV.
With device makers Apple and Sony testing content streaming services, it is likely that other device makers will test the waters at some point. It is not a slam-dunk, given Microsoft's decision to focus on core competencies and Apple's long-term efforts to develop content services. However, what Apple and Sony PlayStation have is brand loyalty and large user bases for their devices—which create a built-in marketing base.
The streaming media device space is consolidating with five device makers accounting for more than half (53%) of most-used devices in U.S. broadband households: Microsoft Xbox, Sony PlayStation, Roku, Samsung, and Wii. New entrants and other industry players will need to provide strong and compelling differentiators to grow market share.
For more information on this market, see Parks Associates' industry report The Streaming Media Device Landscape.
Further Reading:
Next: Consumer Trends for Technology Adoption in the U.S.
Previous: Consumer Trends for Technology Adoption in Canada

Comments
Be the first to leave a comment.
Post a Comment