Solutions for Effective Data Security in the Smart Home - CUJO AI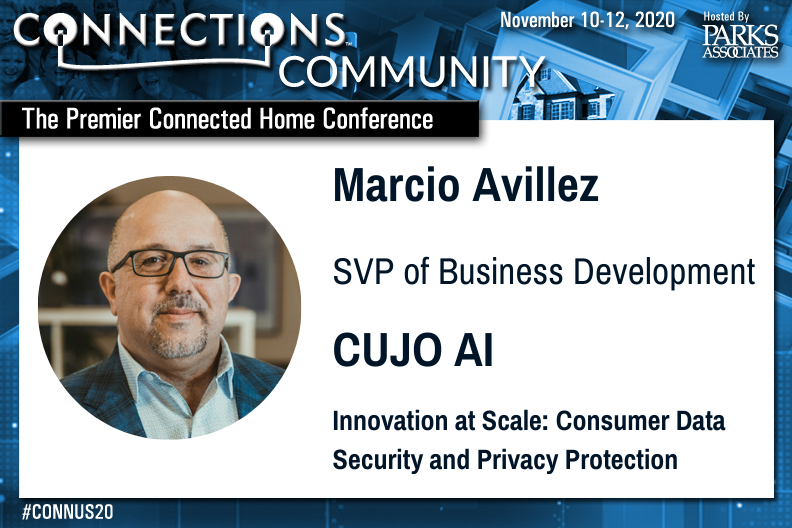 Parks Associates will host its 24th annual CONNECTIONS conference with sessions on July 15, July 29, August 19, Setember 16, October 7, October 28 and November 10-12, 2020 as part of the online CONNECTIONS Community. Ahead of the October 28 session, Parks Associates asked the keynote speaker, Marcio Avillez, SVP of Business Development at CUJO AI, to share his thoughts on solutions for effective data security in the smart home:
As the number of connected devices in consumers' lives increase each year, what solutions need to be created to allay rising consumer concerns around data security and privacy?
Indeed, there's no going around the rising consumer concerns around data security. In March,
2020, we ran a survey of 4,500 US residents and found that over 74% of them are growing
more worried about data security. Nevertheless, we also found that most of them did not focus
on the right areas. This might have something to do with over 65% of them thinking that internet
service providers should be responsible for protecting them.
Consumers have, on average, 10 or more connected devices in their homes, and at least some
of them might be vulnerable. Even if you don't care about all those viral stories about webcam
leaks or creeps screaming through baby monitors, and while you may not think twice about an
open port on your smart toothbrush, any of those things might be the gateway for a criminal to
get into your home network. From that point on your whole digital life might be at stake. All it
might take is to have a single device with an outdated firmware version or a neglected security
patch.
If you look at the problem this way, it becomes clear that you cannot focus on protection at the
device level. Instead, we must move towards solutions that protect consumers on the network
level. This means that consumers have the right intuition: it's easier to protect them on the
network level.
CUJO AI does this for major operators like Comcast by combining the power of AI and ML with
edge computing and can therefore react to IoT vulnerabilities instantly. In terms of privacy, this
is all based on device metadata analysis, without any need to access private or personal data.
What impact will emerging technologies like AI, machine learning, and blockchain
have on the smart home? What are the associated challenges with implementing
these technologies in the home?
AI and ML are about data efficiency, and they can result in more efficient energy consumption or
more enjoyable lighting preferences, as well as smarter and more flexible security solutions.
Blockchain solutions tie into these systems quite nicely by preventing data corruption (both
malicious and unintentional).
The real challenge has been how do you deploy these technologies in a way that they are both
effective enough to create real benefits for consumers and can scale to support the massive
volumes implied by a network-based approach. CUJO AI is the first company on to scale such
a solution.
Next: Connected Devices in the Smart Home - Nice Insights
Previous: Privacy and Security: Protecting the Consumer

Comments
Be the first to leave a comment.
Post a Comment