Smart Home Expectations for Senior Market Solutions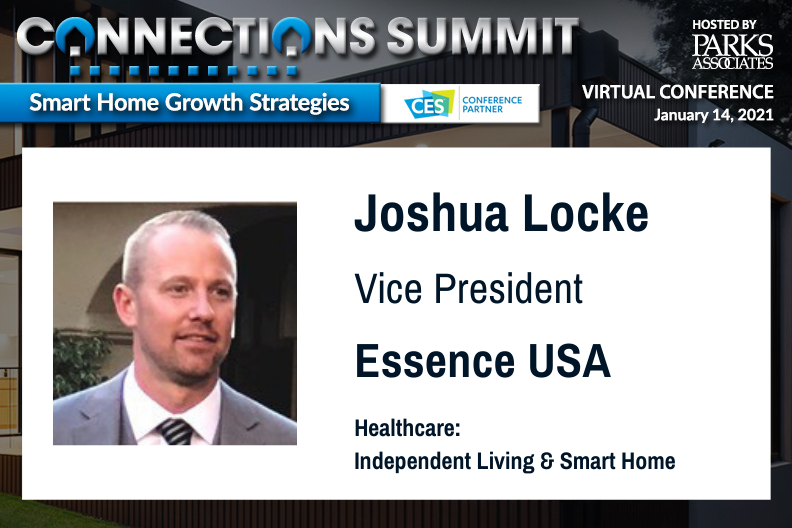 The CONNECTIONS Summit at CES is going online this year! Parks Associates' CONNECTIONS Summit at CES is an annual research and industry event and will be held on January 14, 2021. It features commentary, insight, and debate on consumer and industry trends, new business models and technologies, growth opportunities, and successful market strategies. Joshua Locke, Vice President of Essence USA and a speaker at the summit, discusses senior market solutions ahead of the event:
Question: There are many solutions targeting the senior market, with varying levels of quality; how well do the smart home and connected health industries as a whole perform relative to seniors and their family members' expectations?
Answer: In my opinion, solutions targeting the senior market today are still very simplistic in design and primitive in functionality. I agree that simplicity is extremely important in anything that you wish to scale but in today's market there needs to be clear value and the consumer needs to be engaged in that value often. For example, all marketing, right wrong or indifferent, in the Medical Alert, or PERS industry, is focused around peace of mind not necessarily value. That said, there is innovative solutions available, but it only makes it to the consumer if service providers are willing to implement and offer it to them.
Next: Parks Associates Announces Ossiaco as a Sponsor for Smart Energy Summit
Previous: The Rise of Smart Wi-Fi

Comments
Be the first to leave a comment.
Post a Comment