Smart Home Use Cases: Improving Indoor Air Quality
by Lindsay Gafford | Nov. 11, 2019
Connectivity in the home and the addition of connected devices continues to expand year-over-year. These products provide an increased level of convenience for consumers through home automation and home security applications, energy management and energy efficiency services, and the ability to control and monitor the home remotely.
Smart thermostats have been around since the early 2000s; however, the introduction of the Nest Learning Thermostat in 2011 brought a greater level of recognition for these devices. Parks Associates research shows smart thermostats have the highest adoption rates of any tested smart home device, with 11% of US broadband households owning at least one of these devices as of Q2 2019.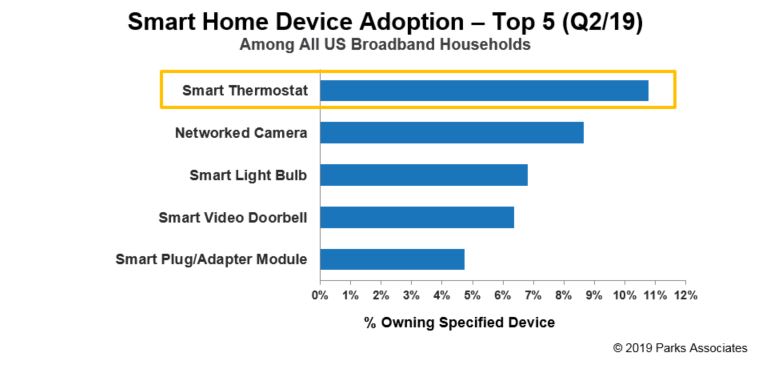 Smart vent companies emerged in 2013, designing vents that automatically open and close to control the temperature in a specific area of the home and save users money on their energy bills – complementing the functions of smart thermostats. Users enter their preferred settings into a smartphone app, and room sensors then collect various data about the atmosphere of a particular room. The data are then analyzed and used to determine if the vents need to be open or closed to achieve the desired temperature. The sensors also enable additional services such as HVAC system and air quality monitoring – including humidity and particulate levels.
Air temperature and quality is particularly important in other bedrooms, which are often used for children and elderly family members. Room temperature not only factors into an occupant's comfort level in a bedroom, it can also improve sleep and help prevent temperature-related asthma and allergy symptoms. When coupled with a smart humidifier or dehumidifier, smart thermostats and vents can also assist in maintaining the optimum level of humidity in a room, reducing the formation of bacteria, viruses, and fungi to which children and seniors are particularly vulnerable.
For an in-depth look at smart technology adoption in the bedroom and across the whole home, check out Parks Associates recently published report, The Smart Home: A Room-by-Room Analysis.
Further Reading:
Next: UK Challenges and Barriers for the Smart Home Market - Insights by Robert Bosch Smart Home GmbH
Previous: Smart Home Opportunities for Home Builders

Comments
Be the first to leave a comment.
Post a Comment