Smart Devices and Home Energy Management
by Tom Kerber | Dec. 15, 2015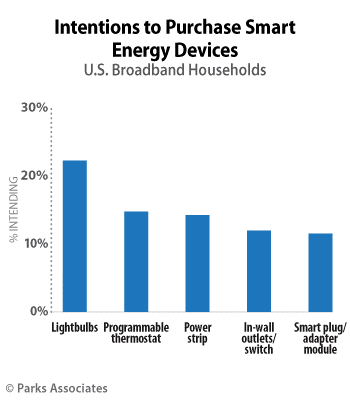 The connected life of smartphone owners is now starting to include smart home devices, a part of the movement towards the Internet of Things (IoT) and increased awareness of the impact on energy efficiencies. In Q2 2015, 16% of all U.S. broadband households owned one or more smart home devices—products that can be controlled or monitored from a smartphone, table, or computer.
Smart energy devices include smart thermostats, smart lightbulbs, smart plugs/adapter modules, smart in-wall outlets, and smart power strips. Smart thermostats continue to lead the smart home category. Many of these smart devices offer energy management capabilities and associated value-added services.
In addition to the increased adoption of smart home devices enabling energy management capabilities, there is a growing consumer awareness of the energy consumption of these devices and techniques to reduce that energy usage. In 2014, 84% of broadband households took at least one action to reduce energy usage or costs. The majority of U.S broadband households changed thermostat settings and turned off appliances and lights when not in use. The top five actions taken by consumers to reduce energy use can also be achieved with smart devices—they can perform the actions on the behalf of the consumer.
While energy management features are not the main reason consumers are interested in smart home devices, consumers continue to report that these features are an important value-add to device functionality. Between Q1 and Q4 2014, the intention of U.S. broadband households to purchase one or more smart home devices increased from 21% to 37%. Lightbulbs led the smart home category with 22% of U.S. broadband households intending to purchase one in 2015. Awareness of smart devices is increasing, due in large part to the major marketing efforts and budgets of telecom and cable service providers.
As more smart devices with energy management features enter the home, utilities will have to decide where they see themselves fitting into the smart home environment. Given the pace of change in the broader smart home market, utilities must consider alternatives to traditional utility-based programs. Market-based approaches provide interesting alternatives that reward innovation, attract new partners, and expand the breadth of energy management solutions.
One example of a market-based approach is a pay-for-performance model that provides incentives to both partners and end customers and leverages smart devices already in the consumer's home. In these type of programs, the smart product manufacturer solicits their customers living in the specific utility region to participate in the program. Co-marketing agreements can assure that the utility brand and message are communicated consistently. Using multiple coordinated messaging channels that include smart product manufacturers and service providers can extend the reach of the utility marketing efforts.
For more information on this research, see my industry report Winning Smart Home Strategies for Energy Management.
Further Reading:
Next: Taking Your Smart Energy Knowledge to the Next Level
Previous: New Innovations Spurring IoT Growth, but Lack of Awareness Remains Huge Obstacle

Comments
Be the first to leave a comment.
Post a Comment