Rise in Connected Health & Wellness Products Creates New Opportunities for Smart Home Players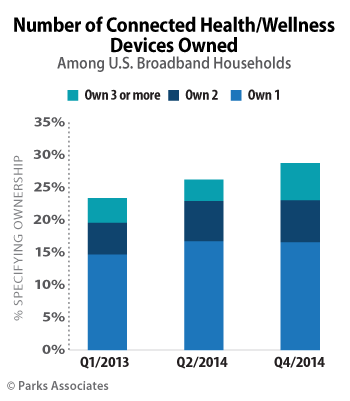 Parks Associates research estimates that by the 2019, the number of smart homes with an installed controller will increase to 24.5 million. The rise in consumer adoption of health/wellness devices has created new opportunities for nontraditional players to offer innovative healthcare products and services.
Parks Associates, Philips, and ADT Health recently partnered together to co-host a complimentary industry webcast that explored the top connected health use cases in the smart home. It also analyzed new partnerships among technology companies, smart home service providers, and health solution venders.
Research highlights from the webcast included:
Connected health use cases, including smart sleep and healthy eating solutions
Current collaborations and partnerships, and recommendations for the future
Analysis of the connected health market in the U.S.

Speakers on the webcast included Paul Adams, Senior Director of Product Management for Home Monitoring at Philips, and Don Boerema, Chief Corporate Development Officer at ADT Health. Harry Wang, Parks Associates Director of Research, Digital Health and Mobility moderated the discussion.
Download the webcast recording and slide deck by clicking here.
Further Reading:
Next: Fitbit's Blaze Launch Clouded by Class-Action Lawsuit
Previous: Application and Data Integration for Smart Home Platforms for Health

Comments
Be the first to leave a comment.
Post a Comment