Revenues in the social gaming market will increase by 500% from 2010 to 2015
Despite the decline in the global economy, electronic gaming still shows strong growth in a variety of areas. Social gaming has become a $1 billion industry while Internet connectivity among different platforms has given consumers more online and multiplayer gaming options. However, data on consumer spending and behaviors in areas such as virtual items are currently scarce. To compete for the consumer's shrinking entertainment budget and remain on the leading edge of gaming, industry players must understand gamers and their preferences.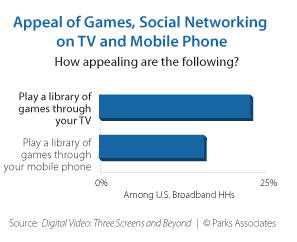 The Electronic Gaming and the Connected Consumer study analyzes online gamers to provide consumer segmentation, discover how current gamers spend their time and money, and identify gaming solutions and services that will capture future spending.
This consumer research study will analyze online gamers in the following areas:
-- Consumer spending-online and social gaming
-- Paying vs. free-to-play users
-- Trends in in-game microtransactions
-- Online purchases of gaming content & services
-- Changes in entertainment habits
-- Behaviors and usage and content preferences
-- Effects of game mechanics/genres on monetization
-- Interest in new multiscreen services and business models
For more information about Electronic Gaming and the Connected Consumer
research study, click here.
Next: New York Games Conference, supported by Parks Associates
Previous: Avatar Kinect, Microsoft's Hands-free Controller

Comments
Be the first to leave a comment.
Post a Comment