Product Returns and the Smart Home
Industry perspectives vary on the extent to which product returns impact growth in the smart home. Through its consumer studies, Parks Associates finds that only approximately 3% of US broadband households report returning a smart home device in the past 12 months. When return rates are assessed among smart home device owners versus all broadband households, the numbers are higher. For example, only 2% of all US broadband households have returned a smart video doorbell. However, 16% of current smart video doorbell owners report that they have returned a smart video doorbell. Higher return rates among consumers who already own smart home devices suggest that the devices are returned due to problems with the devices or unmet expectations versus buyer's remorse and unwanted gifts.
Nearly one-third (27%) of smart home device owners who have returned a device returned it due to difficulty with the physical installation of the device. Twenty-two percent returned a device due to issues configuring the device settings. People see the value of smart home products overall but many are dissatisfied with the technical aspects of the experience.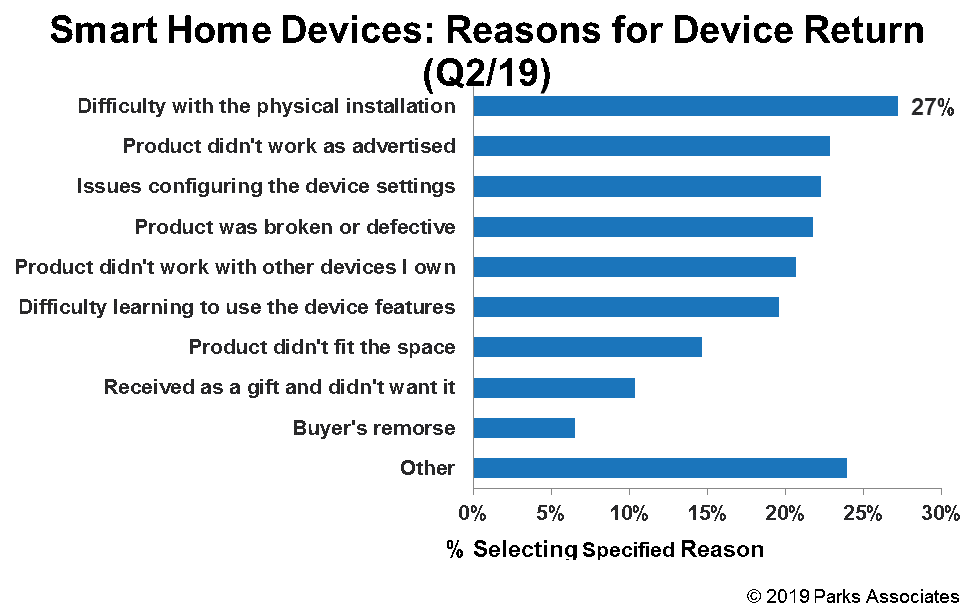 Some brands have taken proactive measures to minimize product returns, starting by setting better expectations around the installation process. For example, Wink utilizes a solution through its app that introduces setup information to consumers prior to device purchase. Customers can scan the barcode of products they intend to purchase to receive setup instructions, which will tell whether or not they are able to self-install the device and if they have all the necessary components to do so. Other brands proactively follow up with customers after device purchase to ensure that the products are in use. If a manufacturer detects a failed setup attempt or that a customer has not set up a product after an extended period, it may reach out to the consumer to determine if there is anything that they can do to facilitate the setup process.
As difficulties in setup and initial usage drive many of the returns among smart home devices, these types of proactive measures at this critical juncture in the consumer journey could prevent many smart home returns.
Parks Associates' consumer study 360 View: Supporting the Connected Consumer identifies the leading issues faced by consumers when using various connected devices and outlines the measures consumers take to resolve these issues.
Further Reading:
Next: Technology Providers Easing Consumer Concerns - Insights from Everise
Previous: The Next Wave of Smart Home Devices

Comments
Be the first to leave a comment.
Post a Comment