Parks Associates research finds free content is main lure for Western Europeans watching video online
CONNECTIONS™ Europe Summit examines impact of consumer preferences on future services--
Adoption of online video has increased in Europe, but international research firm Parks Associates reports that the vast majority of usage is not generating any direct revenues. The firm, which recently released the white paper The Impact of Online Video in Europe, reports that 31% of broadband households in Western Europe have downloaded a movie or TV show for free in the last six months while only 8% of households have paid for an Internet download.
The Impact of Online Video in Europe addresses these changes in viewing habits, a key area of focus at the upcoming CONNECTIONS™ Europe Summit, hosted by Parks Associates on March 31 in Nice, France.
Over 80% of broadband households prefer traditional options for viewing video, including going to the cinema or watching a DVD. Since so many users are watching online video only because it is free, they will likely step away from the computer if they have to start paying for it.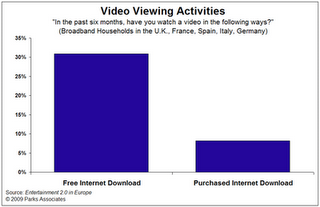 CONNECTIONS™ Europe Summit focuses on new strategies for service and technology providers, media companies, and manufacturers in creating new entertainment and communications solutions. Event sponsors include Affinegy, Enure Networks, and HomeGrid Forum. Global Sponsors include ActiveVideo Networks, Affinegy, Cloakware, DSC, HD-PLC Alliance, Icron, Macrovision, the Multimedia over Coax Alliance (MoCA), ProVision Communications, Radialpoint, Telcordia, and Zilog.
Next: Time Warner Tests
Previous: Ericsson 's Connected Home Gateway enables remote access to multimedia devices

Comments
Be the first to leave a comment.
Post a Comment