Parks Associates Research Analyst Presents Mobile App Data at mHealth Summit 2011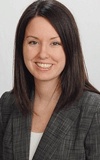 Jennifer Kent, research analyst from Parks Associates will be participating at the 2011 mHealth Summit during the Poster Presentations on December 5th from 4:15 PM -7:00 PM and December 6th from 3:30PM - 7:00 PM. Jennifer will be presenting on Parks Associates health mobile apps data from a survey of 1,428 mobile phone owners and 309 care professionals with mobile phone service in the U.S.
The mHealth Summit brings together leaders in government, the private sector, industry, academia, providers and not-for-profit organizations from across the mHealth ecosystem to advance collaboration in the use of wireless technology to improve health outcomes in the United States and abroad.
If you are interested in meeting with Jennifer while she is at this event, please let us know.
Next: Connected Care Devices and Services, A Slow Growth
Previous: Parks Associates is supporting Mobile Healthcare Industry Summit '11

Comments
Be the first to leave a comment.
Post a Comment