Parks Associates' Predictions for 2017 IoT Trends
Ahead of the CONNECTIONS Summit at CES, Parks Associates has released its predictions for the future of IoT in a new whitepaper, Top 10 Consumer IoT Trends in 2017. The whitepaper focuses on key industry trends that will impact various markets both in the New Year and well into the future.
This new whitepaper is free to download and covers major markets across the Internet of Things, including smart home, healthcare, digital media, connected cars, wearables, and more.
The top 10 trends emphasized in the whitepaper are highlighted in the infographic below: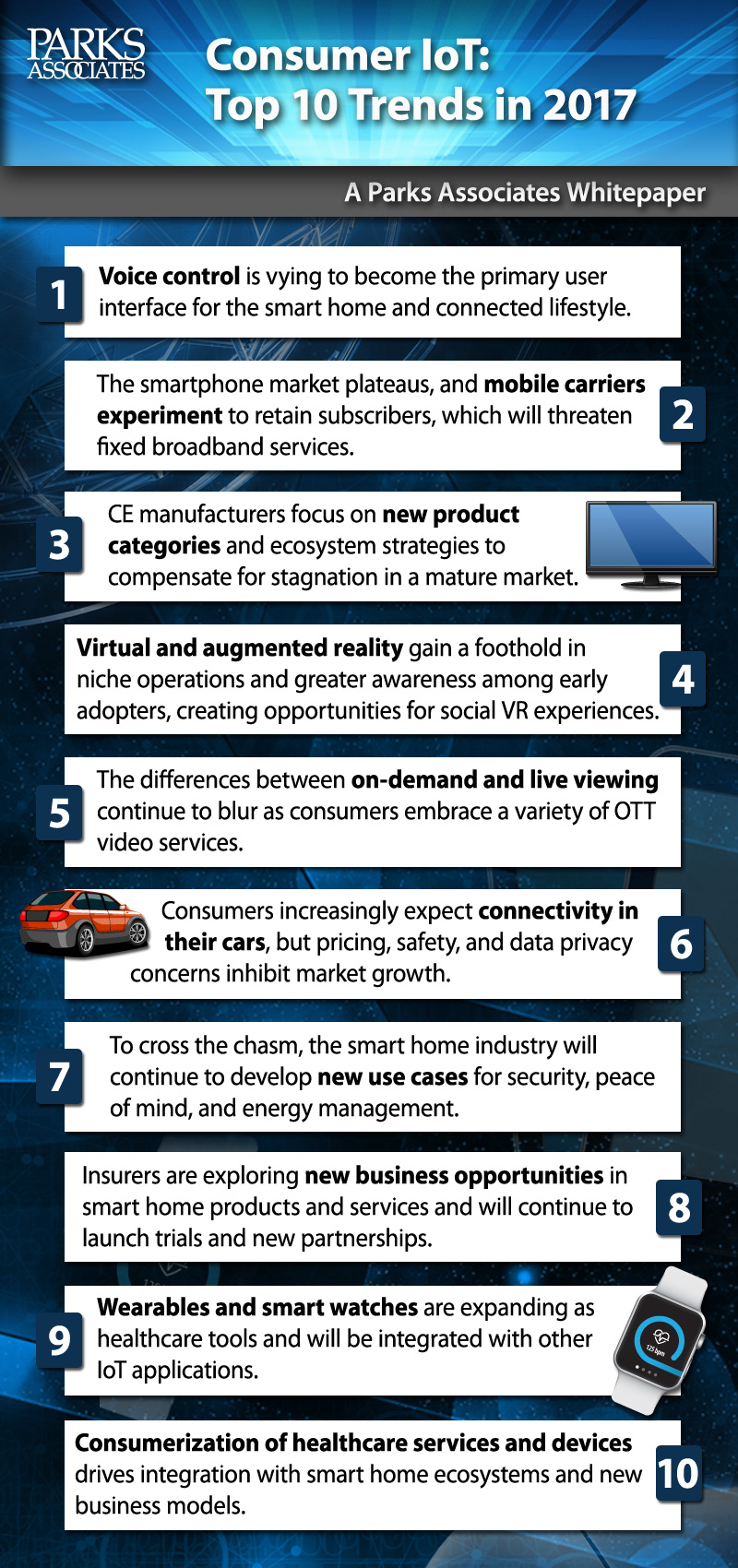 To see the full list of Parks Associates' predictions alongside analyst commentary on market trends and innovations, download your copy of the whitepaper today.
Parks Associates analysts will be examining many of the trends listed above as part of the annual CONNECTIONS Summit, taking place January 5 at CES in Las Vegas. Speakers participating in the event include Alarm.com, Carrier, Comcast, EVRYTHNG, General Motors, Nest, Vodafone, and others. If you plan to attend CES this year, make sure to add the sessions to your personal schedule!
Further Reading:
Next: Integration and compatibility of multiple connected devices is most important connected home enabler: Insights from OnProcess Technology
Previous: Innovative products are key for the connected consumer market: Insights from Galaxywind

Comments
Julia Ye wrote

I really interested in IoT and I write about that at my blog - https://www.cleveroad.com/blog/ios-development-trends-of-2017--hot-top-that-will-shape-platforms-future#making-things-smarter--iot-trends May I use some of your information to complete IoT subject?

on Wed Feb 15 09:58:34 2017
Post a Comment