Over 40% of U.S. broadband households are interested in receiving medical alerts via a smartphone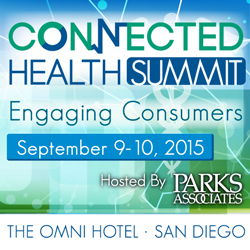 The smart home industry is looking for new growth opportunities, and the Supreme Court's decision in King v. Burwell has provided stability to the healthcare industry, making it an attractive market for smart home players. The smart home could enable new value propositions in home-based health and wellness solutions and independent living products and services.
Parks Associates research shows:
By 2019 the number of U.S. homes with a smart home controller will exceed 26 million
Connected digital fitness trackers will grow to more than 82 million by 2019
Nearly 30% of U.S. broadband households own a connected health device

Parks Associates welcomes and thanks the following Break Sponsors for their support at the 2015 Connected Health Summit, taking place September 9-10 in San Diego:
---

iTriage is a healthcare technology company headquartered in Denver, Colorado. Founded in 2008 by two emergency room doctors and acquired by Aetna, Inc. in 2011, iTriage connects patients, providers and health plans through smart technology providing decision support to help people navigate the healthcare system. Millions of consumers globally have downloaded the free and highly rated iTriage application to iPhone®, iPad® and Android™ mobile devices. The company partners with hospitals and health systems, accountable care organizations, retail clinics, health plans, and employers to improve population health.
Patrick Leonard, CTO of iTriage, will speak on the panel "Disrupting and Rebuilding: New Care Service Models for Consumers" at 8:45am on September 10.
---

MivaTek, spun-off from Oplink Connected in May 2015, is a turnkey multiple-to-multiple interactive connected-living platform IP solution and service provider.
MivaTek's smart hub and mobile-cloud offer advanced in-app interactive device control, secured video, and phone# based social-sharing features seamlessly integrated for home security, safety, automation, home health-care, aging-care and other sensor-specific applications, all integrated in one single mobile-App.
Joe Liu, CEO of MivaTek, will speak during the session "Empowering Patients and Care Providers: Smart Sensors and Technologies for Connected Care" on September 10 at 1:30pm.
---

The National Sleep Foundation is dedicated to improving health and well-being through sleep education and advocacy. It is well-known for its annual Sleep in America® poll. The Foundation is a charitable, educational and scientific not-for-profit organization located in Washington, DC. Its membership includes researchers and clinicians focused on sleep medicine, health professionals, patients, families affected by drowsy driving and more than 900 healthcare facilities.
David Cloud, CEO of the National Sleep Foundation, will participate on the panel "Integrating Wearables for Consumer Care" on September 9 at 3:00pm.
To learn more about how you can participate at this important industry event, visit www.connectedhealthsummit.com.
Next: One-fifth of U.S. Broadband Homes Want Electronic Checklists from Physicians
Previous: Households with children are more likely to use specific online health services

Comments
Be the first to leave a comment.
Post a Comment