OTT vs. Pay TV: Most Appealing Features for Consumers
Parks Associates research shows that more than 63 million U.S. broadband households subscribe to an OTT video service, and 36% of U.S. broadband households have at least one streaming media player.
OTT services have allocated substantial portions of their marketing efforts to enforce their positions in the mainstream market. Hulu and Netflix used Super Bowl LI to capture the large audiences to promote their original content, while Amazon and Netflix were awarded for their efforts in film at the 2017 Academy Awards.
At Parks Associates' annual CONNECTIONS™: The Premier Connected Home Conference in San Francisco, attendees in the session "OTT Video Services: Entertainment for a New Generation" provided their input on factors contributing to OTT players' successes in recent years: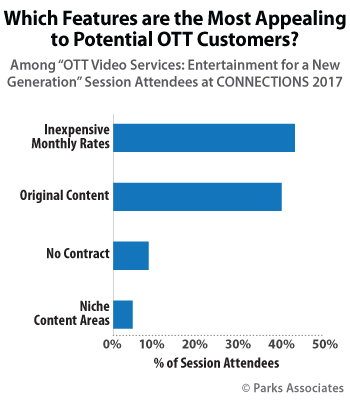 Both the original content and the inexpensive rates that OTT services offer top the list of most appealing features in attendees' minds. Parks Associates research supports this—while spending on pay TV is falling, U.S. consumers increased their average monthly spend on OTT subscriptions by nearly 70% between 2012 and 2015.
The subscription model clearly dominates in the U.S., and the success of these models has had a significant impact on traditional distribution channels. Research shows 20% of U.S. pay-TV subscribers report that they are dissatisfied with their pay-TV service, representing a 100% increase since early 2013. Pay-TV service providers are now turning to new business models to help offset the impact of OTT, which is likely to grow in 2017.
For more information on Parks Associates' entertainment research, click here.
Further Reading:
Next: The Crunchyroll / Twitch.tv Partnership Could be the First of Many
Previous: Top 3 Thoughts on the Comcast-Charter Partnership

Comments
Be the first to leave a comment.
Post a Comment