OTT Video Holiday Promotions
by Alexandra Martin | Dec. 20, 2016
Hoping to be thought of as a gift for video lovers during the holiday season? 12 OTT video services are offering promotions for new subscribers.
Below are the 12 Deals of OTT Video Services this holiday season: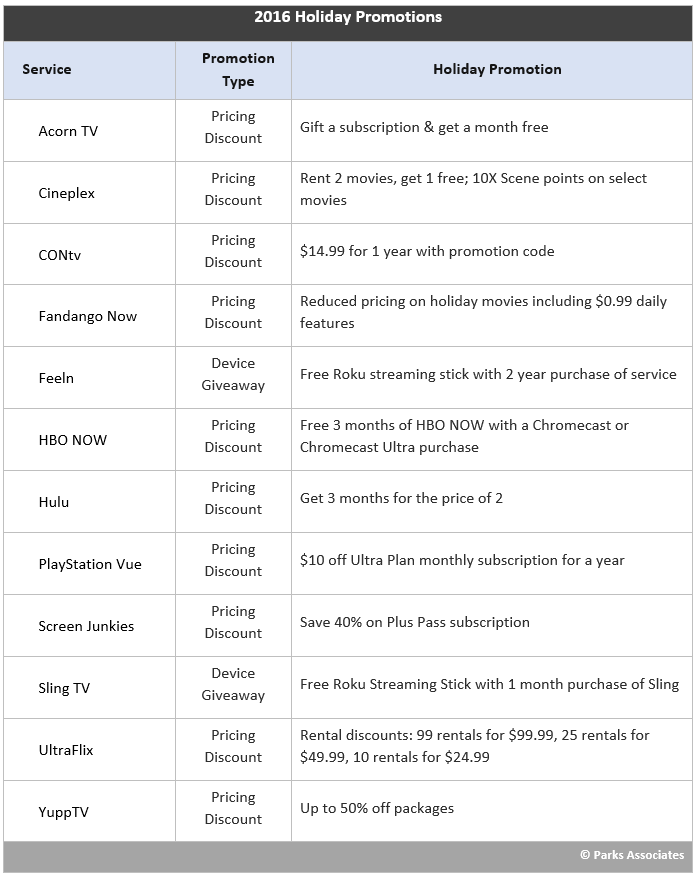 According to Parks Associates data, 63% of U.S. broadband households subscribed to a video service in 3Q 2016. Of those, 51% subscribed to one of the top 3 OTT services: Netflix, Amazon Video, and Hulu. Hulu is included in the 12 deals with its "get 3 months for the price of 2" promotion.
OTT services have taken 2016 by storm, with 27 new services launching this year. With the large amount of players in this growing field, it can be hard to keep track of them all. Parks Associates' OTT Video Market Tracker delivers comprehensive tracking of the OTT video services industry, identifies new players in the market, follows changes among existing OTT players, and provides current updates and insights into industry trends and disruption.
If you are interested in Parks Associates' OTT Video Market Tracker, contact sales@parksassociates.com.
Further Reading:
Next: Amazon & Netflix Go Head-to-Head at 2017 Golden Globes
Previous: What the Appeals Court Ruling Means for the OTT Video Market Space (I Read the Ruling So You Don't Have To)

Comments
Be the first to leave a comment.
Post a Comment