Will OTT Services Continue Free Trials?
by Steve Nason | Nov. 19, 2020
As the presence of OTT services has increasingly grown over the past few years, free trials have been an effective tool for these services to engage and acquire customers. These free trials allow potential customers the opportunity to explore a service's content offering as well as other aspects of the user experience that the free trial period and the user experience are compelling enough to convert those trialing the service to paying customers.
Considering how effective free trials have been for customer acquisition and engagement, it was revealing when two major SVOD services, Disney+ and Netflix, removed their free trial offerings. In June 2020, Disney+ surprised many in the industry by removing its 7-day free trial as part of its ongoing marketing and promotional strategy for its customer acquisition efforts. Disney was confident that its $6.99 monthly price point was set at an "attractive price-to-value proposition" and the major content addition of the theatrical production, Hamilton, among other service enhancements, was enough to bring in subscribers without the use and benefit of a free trial. Netflix also ended its 30-day free trial in the US in October, looking instead towards other marketing and promotional strategies to attract new subscribers. Netflix recently added a "Netflix Watch Free" site with access to select original programming without the need for a paid subscription. Disney+ and Netflix seem to believe that other tactics such as offering chunks of original content, a lower monthly price, or bundling the service with other services may be a more effective way to market and promote the services to prospective customers.
While Disney and Netflix have decided to end free trials, consumer data from Parks Associates indicate that the overall use of trials is on the rise and they are still a key driver in the OTT subscriber journey. Consider, among those who newly subscribed to an OTT service during COVID-19, more than two in five (net) cite a trial-related reason for subscribing to the service.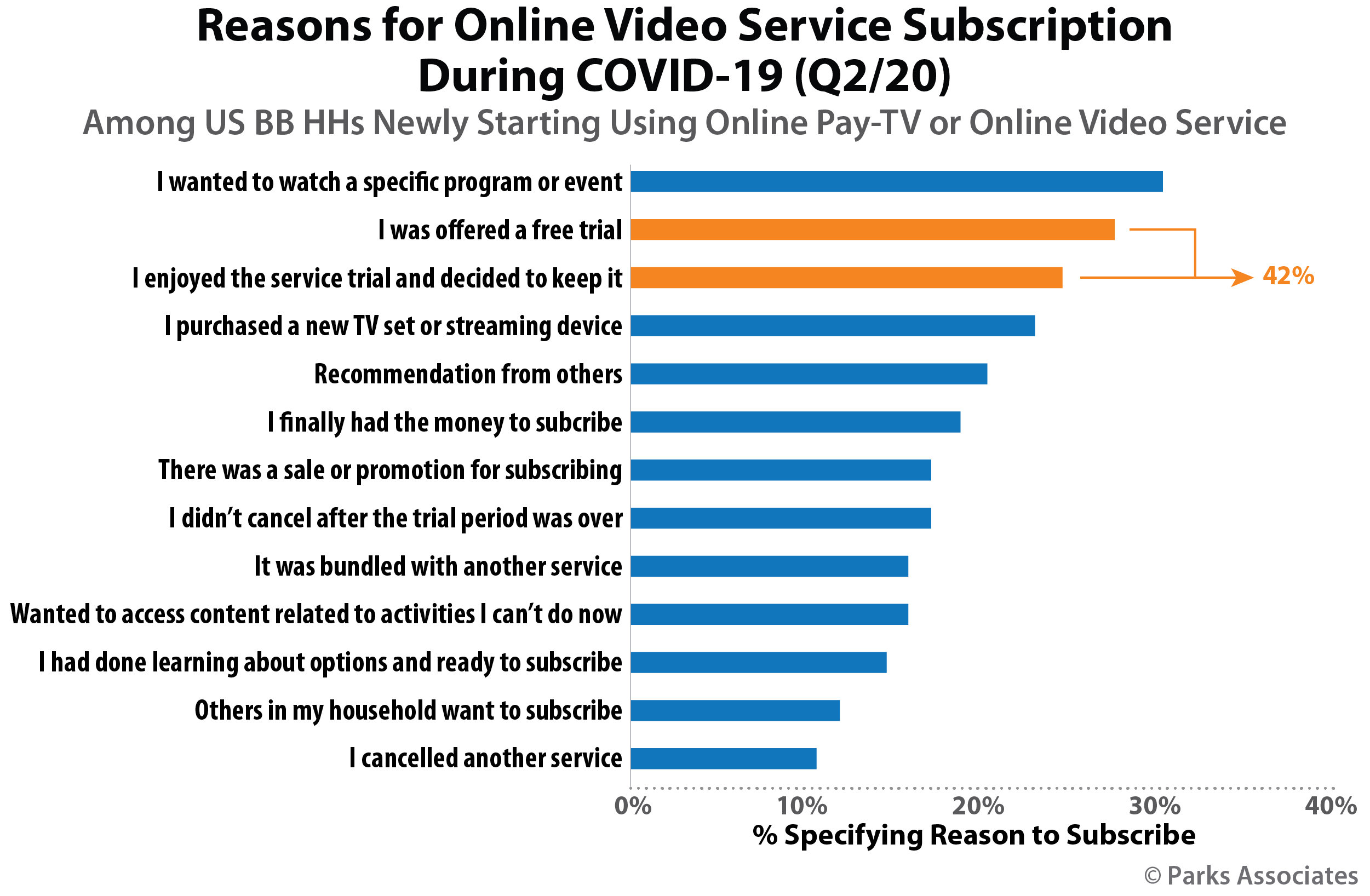 Both Netflix and Disney are OTT leading players at the top of the SVOD hierarchy and can afford to remove an extremely popular marketing and promotional tool such as free trials to test other strategies in their toolbox. However, it is also possible that these services and others that have abandoned free trials may return to their use at a later date.
Free trials allow the prospective customer to experience and explore a service's content offering and play an invaluable role in deciding whether or not to subscribe to specific services. The presence of free trials as a key driver in the OTT subscriber journey will continue and it will be noteworthy to track the use of trials among other SVOD services following the removal of free trials by Disney+ and Netflix.
For a deeper look at the OTT video space, please check out the Parks Associates' OTT Video Market Tracker.
For more information about Parks Associates research, visit http://www.parksassociates.com or call 972-490-1113.

Next: Preventing Consumer Churn in a Pandemic
Previous: Comcast's New Smart TV Licensing Strategy

Comments
Be the first to leave a comment.
Post a Comment