Operators turning to health services, home security, energy monitoring, entertainment services, and support services for future revenues and growth
In the U.S., 52% of broadband consumers are interested in premium technical support services from their broadband provider; 43% are interested in home monitoring and security services.
Many of the world's largest ISPs, including Bell Canada, British Telecom, Ziggo, Korea Telecom, and Telstra, have launched premium technical support, ranging from antivirus protection to in-home networking services.
Verizon is conducting trials of a home automation and control service unveiled at CES 2011. Home security offerings include IP-based cameras that stream video to an iPhone and fully monitored security systems that notify security guards when an alarm is tripped.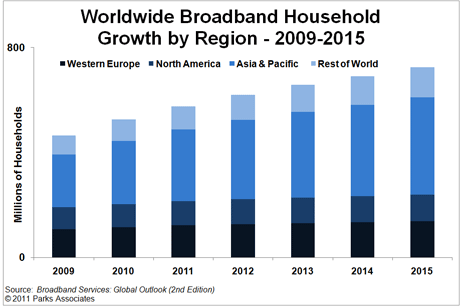 AT&T, Comcast, Orange, J:Com, and SK Telecom have announced or currently offer automation or home security services.
Value-added services are the lifeline for future growth and revenues for global broadband providers. Parks Associates's new Broadband Services: Global Outlook (Second Edition) reports broadband penetration in South Korea exceeds 90% and many countries in Northern Europe, including Finland, Denmark, the Netherlands, Sweden, and Norway, surpass 75%. In the U.S., 66% of American adults had a high-speed connection at home as of 2010. This report analyzes the current and future market for consumer broadband services around the world and the emerging value-added services that will emerge in the near future.
Next: Parks Associates new website portal creates ideal resource for accessing data and analyst insight
Previous: Reflections on NAB 2011

Comments
Be the first to leave a comment.
Post a Comment