OMRON - Impact of Global Pandemic on Connected Health Markets and Solutions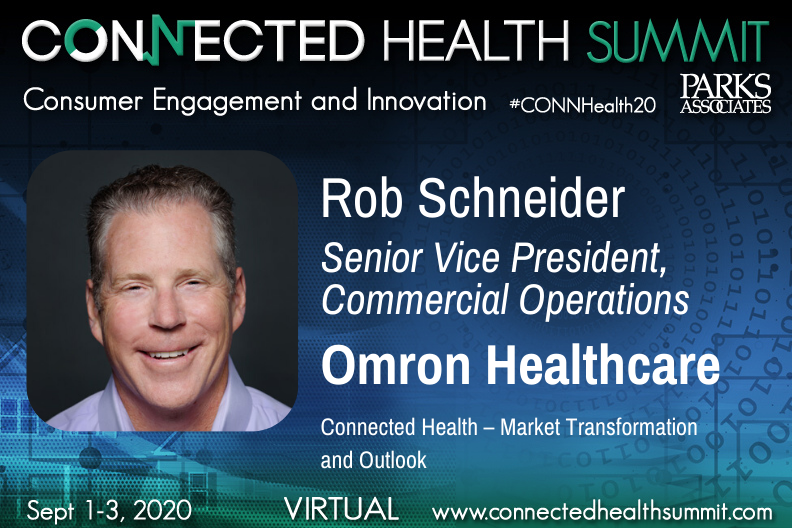 Parks Associates' seventh annual Connected Health Summit: Consumer Engagement & Innovation will take place virtually on September 1-3, 2020. This executive conference focuses on the impact of connected devices and IoT healthcare solutions on consumers at home.
Rob Schneider, Senior Vice President, Commercial Operations at OMRON Healthcare, Inc. and a member of the event's advisory board, shares his insights on the effects of COVID-19 on the Connected Health Markets.
How has COVID-19 impacted the connected health markets?
The COVID-19 pandemic has impacted connected health markets in numerous ways. Two key observations we're making at OMRON are increased interest from consumers in telemedicine and wider adoption of self-care and at-home health management. The changes in interest and behavior for consumers over age 60 are especially notable. A recent survey found that telemedicine usage jumped 340% among Medicare-eligible seniors since the start of the COVID-19 pandemic. Nearly one-third of consumers age 64 and older say they are now monitoring their health using a wearable.
According to the CDC, hypertension is one of the pre-existing conditions that can increase the risk of severe illness due to COVID-19. Additional reports from the journal JAMA Cardiology show that COVID-19 illness may result in cardiac damage, like heart inflammation, that can endure well into the recovery period. These health concerns are intensifying the need for consumers to monitor their blood pressure, know their risk and be proactive about their health.
For those of us in connected health, these rapid changes prompt us to think about how we can utilize technology to give consumers more options to connect with their physicians virtually, more tools to track and share health data, more options to actively manage underlying health conditions that come with increased risk while maintaining social distancing. We are also looking to how our technologies can help underserved communities and rural areas that are suffering from lack of access to care while facing ongoing health disparities and urgent needs amid rising cases.
How have consumer attitudes towards connected health solutions shifted in the last year?
One of the biggest shifts we're seeing is the rapidly growing interest in telemedicine and telehealth tools. One recent survey showed that two-thirds of consumers were now more willing to use telemedicine tools to manage their health conditions as a result of social distancing measures.
These technologies are now essential for consumers to maintain care for chronic health conditions while maintaining social distancing and staying consistent even if access to a physician's office is reduced.
Will shifts in consumer behaviors related to fitness, wellness, chronic care management, and care for senior populations outlast the COVID-19 crisis? How can solution providers keep consumers engaged over the long-term?
The shifts we have seen involve consumers taking a more hands-on approach for self-care and proactive at-home health management. One-third of consumers have increased their focus on exercise and fitness to support their health. Recent reports show that 3-in-4 consumers are interested in using telehealth to address their health concerns beyond the pandemic.
Health solution providers and device manufacturers need to consider how we can educate consumers on the importance of maintaining these proactive health behaviors to improve health outcomes. At OMRON, we have made public education a core component of our Going for Zero mission to eliminate heart attack and stroke for years.
OMRON launched HeartGuide, the first wearable blood pressure monitor, in 2019 with an accompanying app called HeartAdvisor. This app allows users to answer simple daily questions about their lifestyle, diet, alcohol consumption and fitness level to show the user how these habits affect their blood pressure numbers. These insights help hypertensive patients make meaningful behavior changes and understand how that results in better health outcomes.
COVID-19 exposed the vulnerability of our senior population – how can independent living solutions best meet the needs of seniors and caregivers?
Connected health solutions are evolving and becoming more accessible for seniors to address their health needs and provide options to maintain consistent communication with their physician from home. For caregivers, remote patient care tools and connected health devices can provide them with peace of mind. Nearly two-thirds of caregivers in the U.S. use some form of digital health tool to help improve care and monitor a patient's health.
Our new remote patient monitoring program, VitalSight, shares patient health data with the physician's EMR in real-time, and artificial intelligence flags blood pressure readings that could indicate a larger issue. Sharing this data directly with the physician and care team allows caregivers to focus on ensuring a patient builds healthy behaviors and allows senior patients to maintain an independent lifestyle by fostering proactive doctor-patient dialogue from home.
The healthcare economy has been severely disrupted in this crisis, but regulations and reimbursement for connected health solutions are trending positive – how will these competing forces impact the growth of the connected health market?
The healthcare economy experienced a significant impact during the pandemic. Without revenue from elective surgeries and a stark decline in patients making appointments for daily health concerns, healthcare revenue reportedly fell by nearly 40% in April. The need for new revenue streams and reimbursement options have become essential.
Recent updates for expanded Medicare coverage of connected health solutions have allowed more physicians to see patients remotely. We are looking at how reimbursements and cost savings from use of remote patient care tools can support healthcare revenue, which could spark additional interest from hospital systems to adopt remote patient monitoring programs within their practice.
Next: The Upsurge of Telehealth Services
Previous: Teladoc's Livongo Acquisition Points to Rapid Evolution of Telehealth

Comments
Be the first to leave a comment.
Post a Comment