Now is the Time to Explore Cloud DVR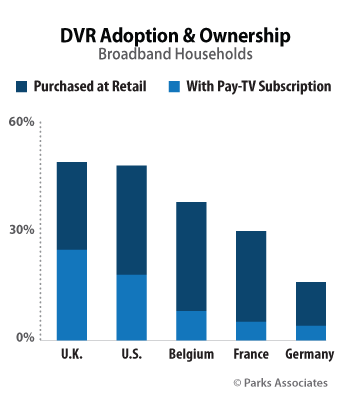 Parks Associates research shows 51% of U.S. pay-TV subscribers are very interested in unlimited DVR storage. Currently, over 50% of U.S. broadband homes either include a DVR as part of their pay-TV subscription or have purchased one at retail.
Consumers are recording shows at higher volumes. Companies are looking toward cloud DVR systems to not only meet the demand of the amount of data recorded in the video industry, but to also lead to new innovations and implementations into the market. There are more connected screens in the world than there have ever been in the past—Parks Associates estimates the number of cloud DVR subscribers worldwide will exceed 4.6 million by the end of 2015.
Now is the time to explore cloud DVR.
Parks Associates and Cisco recently aired the industry webcast "Endless Flexibility and Experiences with Cloud DVR" to discuss and analyze the current and future market potential for cloud DVR services.
Research topics included:
Today's video environment
The good and bad of the DVR
Overcoming obstacles
The impact of cloud DVR
Implementation considerations

Speakers on this webcast included Brett Sappington, Director of Research at Parks Associates, and Yoav Schreiber, Product Marketing, Service Provider Video at Cisco.
To download a complimentary copy of the webcast recording and slide deck, click here.
Further Reading:
Next: Impact of AT&T and DIRECTV Merger: Analyst Insights
Previous: Parks Associates on OTT Account Sharing: Analysis & Data

Comments
Be the first to leave a comment.
Post a Comment