Next-Gen CE: Reinventing Consumer Experience with IoT Data
Consumers and broadband households are in the middle of a transformation – the average number of connected products per household has steadily increased, growing from eight connected devices per household to over twelve in the past five years. These changes are pushing CE companies to look beyond the single transaction, to create long-term engagement with their consumers.
Join us for a complimentary webinar, Next-Gen CE: Reinventing Consumer Experience with IoT Data, on Wednesday, August 5, 2020 at 11:00 a.m. CT | 9:00 a.m. PT, co-hosted with Copilot.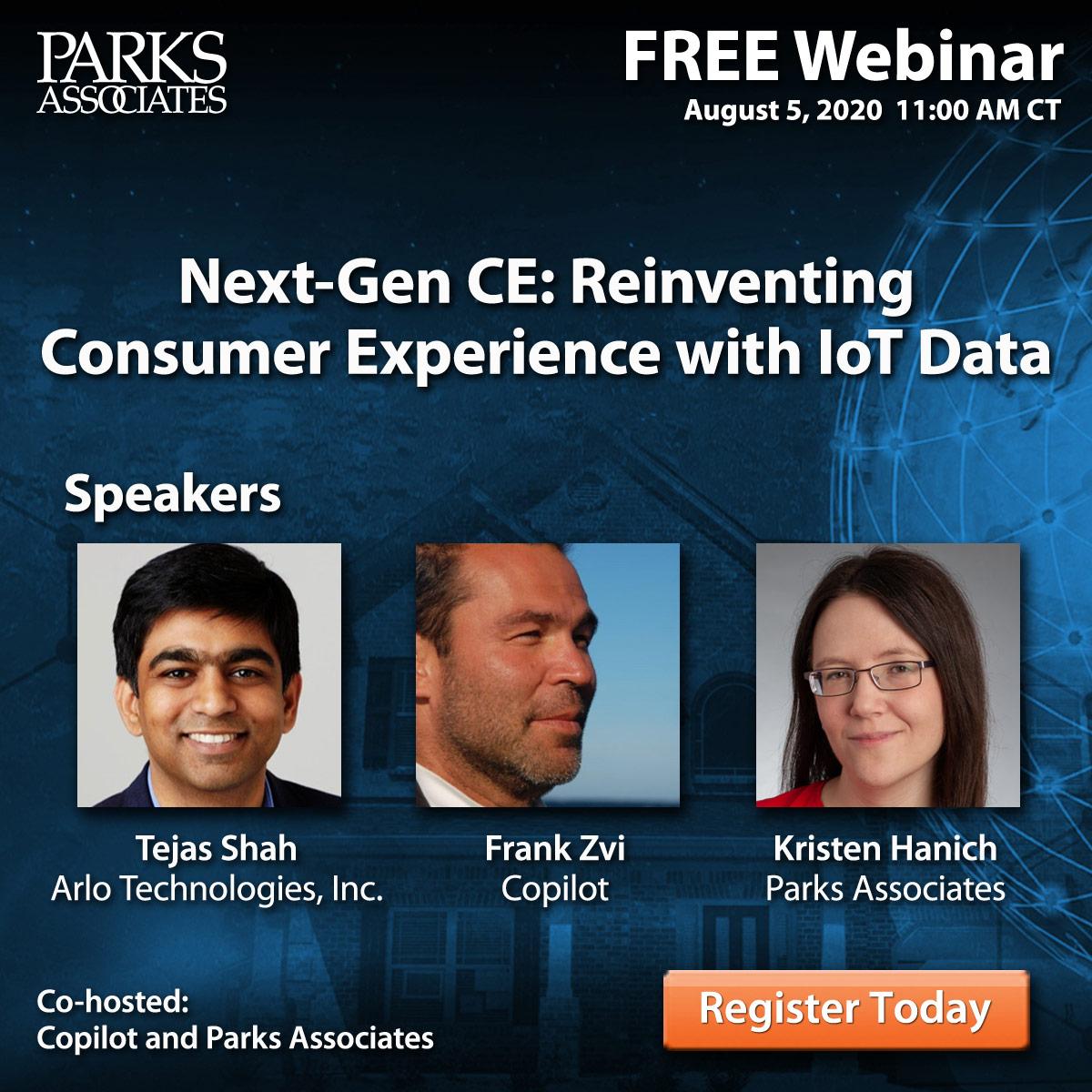 This webinar explores the adoption of connected products, the multiple levels of an IoT strategy for CE companies, and the challenges and potential pitfalls in the transition to a connected platform.
Speakers:
Frank Zvi, Co-CEO, Copilot
Tejas Shah, Senior Vice President of Product and Chief Information Officer, Arlo Technologies, Inc.
Kristen Hanich, Senior Analyst, Parks Associate
Many CE companies are in a painful transition to becoming IoT companies as they struggle to keep their actual and virtual shelf space among retailers favoring tech-forward solutions. There are many factors in this transition from a traditional to connected solution, including automated updates, UI management, Amazon and product ratings, and messaging to the consumer.

Additional Parks Data:
35% of broadband households are "very interested" in subscribing to a value-added service they do not yet have

50% of consumers who set up smart home devices themselves report setup problems

Over 33% of CE device owners experienced technical problems with their device over the past year

Register today to gain insights from industry experts as they discuss the opportunities in leveraging user-generated data to drive engagement and capture the lifetime value of a consumer relationship.
Next: Moving Beyond Traditional Consumer Electronics: Connected Devices Everywhere
Previous: US Cloud Gaming Market Stands to Generate Nearly $3B in Annual Subscription Revenue

Comments
Be the first to leave a comment.
Post a Comment