New Solution Revealed at CES Tackles Video Service Password Sharing
by Michael Tuck | Jan. 10, 2019
According to Parks Associates research, 16% of U.S. broadband households share passwords for their online video service accounts. Potential loss of revenue from password sharing adds up to significant sums, as 70% of U.S. broadband households subscribe to an OTT service as of Q3 2018.
Synamedia, a technology company specializing in video software, announced a new solution called Credentials Sharing Insight at this year's CES. The technology relies on AI to help OTT and TV Everywhere service providers determine if and when login credentials are being abused. Credentials Sharing Insight's algorithm detects irregularities in login patterns – for example simultaneous logins would be flagged, as would logins close in time to one another that are, geographically, improbable of being the same person.
Password sharing has gradually grown from a way for services to enjoy word-of-mouth advertising to an issue that is affecting profits and subscribership. Generally speaking, streaming services would not be interested in this technology for punitive reasons such as cancelling a user's membership. Rather, it is a tool that will likely be used to encourage users to upgrade to a higher-tier package with a higher number of authorized streams/users by way of email or in-app notification.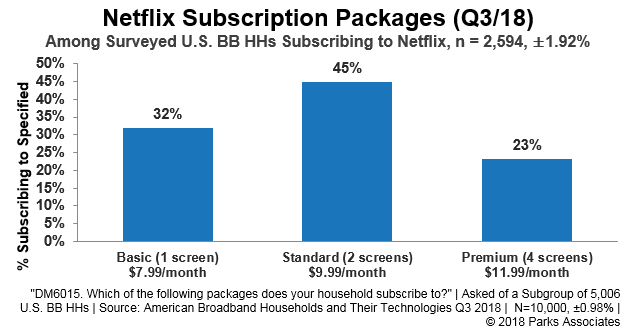 Netflix, for example, has the resources to internally patrol and enforce the number of users in real time, offering tiered packaged with increasing streams among other desirable features. In fact, approximately 68% of its subscribers choose a service tier with multiple streams indicating a need/expectation for this feature among services in the market. Other services without dedicated resources to tackle the issue of password sharing could very much benefit from a service like Synamedia's.
Credentials Password Sharing is an answer to a growing issue in the industry and gives service providers a way to prompt some of its users to upgrade. This seems to be a win-win for Synamedia and industry players, provided the software is priced in a way that allows providers a net profit. It will be interesting to see how this technology is adopted, and how subscribers react to its implementation.
Parks Associates assesses password sharing and new personal authentication technologies in its recently released industry report, Innovations in Authentication and Personalization.
Further Reading:
Next: OTT Platform Availability: Expectations vs. Reality
Previous: What Does the Future Look Like for Pay TV? Insights from ARRIS

Comments
Be the first to leave a comment.
Post a Comment