New Consumer Survey Examines Apple iPhone 4S Users and Satisfaction with Device Features
55% of U.S. users of Apple iPhone 4S are "very satisfied" with the Siri voice-command feature, according to new consumer research from the international research firm Parks Associates. The survey, featured in Apple iPhone Siri Users, finds an additional 21% are "satisfied" which totals over three quarters or 76% satisfied, leaving a small number of dissatisfied users. Thirty-seven percent of iPhone 4S owners also want to have a similar voice-command interface for their TV set, and roughly 20% would not.
Siri is clearly a hit among the initial iPhone user base. Consumers like Siri because it's convenient, easy to use, and helpful for remembering important information and its hands-free capability makes it easy to send texts, emails, and phone calls. However, I would have expected more owners to want Siri for their TV set. These are the folks that rushed out to get the new iPhone 4S.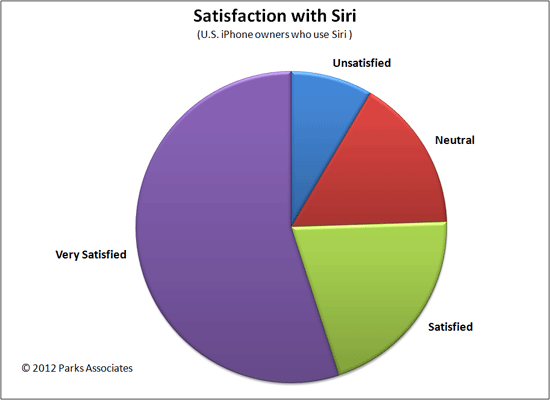 Apple could soon be launching a TV set with a Siri voice interface. The popularity and usability of the company's natural-language user interface could determine the extent of Apple's impact on the TV market.
Multiscreen is the next battleground for content delivery. Siri could represent a business model breakthrough for Apple in driving content consumption on its iOS Platform to multiple screens in the home. 1Q 2012 Market Focus – Apple iPhone Siri Users surveyed iPhone 4S owners on their use and opinions of the Siri voice-command feature. Apple iPhone Siri Users is part of Parks Associates' Mobile and Portable research service, which analyzes developments in the market for mobile phones, tablets, and related services.
Next: Will RIM Find a Buyer?
Previous: And Now for the Rest of the Siri Story

Comments
Be the first to leave a comment.
Post a Comment