More content and lower costs will push 3D into more CE
Parks Associates reports a modest increase in awareness of 3DTV among U.S. broadband households in 2010, but the mainstream viability of 3D depends on availability of premium video content and not one-off events such as the World Cup.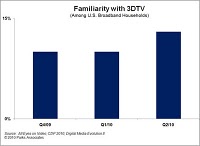 The firm's latest report Trends in 3DTV finds 13% of households are familiar with 3DTV, an increase from 10% from the previous quarter. In some cases, 48% of these households are willing to pay for 3D content, provided they have access to the right types of content, including movies and TV shows.
Efforts such as the ESPN 3D broadcast of the 2010 World Cup are great experiments and effective in building awareness of the technology, but they have not resulted in extraordinary 3D TV sales. As content and service providers launch new 3D channels and Blu-ray discs, consumers will start to see more value in this technology, and shipments will increase as a result. By 2014, 80% of the TVs sold in the U.S. will be 3D-ready.
Parks Associates research indicates 3D movies generate the most interest from U.S. consumers. One-third or fewer of consumers are willing to pay for 3D television shows and sporting events, but nearly one-half are willing to pay for 3D movies. Trends in 3DTV provides a detailed overview of 3D technology and examines business strategies by industry segment. The report analyzes the availability of content, reviews issues and progress with each content delivery method, and describes the impact of 3D on CE.
Next: Is Hulu really dying?
Previous: Pace is buying 2Wire

Comments
Be the first to leave a comment.
Post a Comment