Millions of U.S. households already using Internet-connected CE to watch video-on-demand, finding convenience and savings in these devices
Parks Associates reports three million U.S. broadband households plan to purchase an Internet-connected TV during the 2010 holiday shopping season, further eroding consumer need for brick-and-mortar video sources.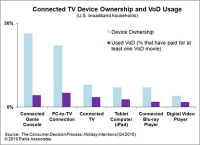 Nearly 25% of U.S. broadband households already own at least one connected TV device, and one-fourth of these households have watched a paid movie-on-demand at least once in the past month, according to Parks Associates' Connected CE Tracker, part of the firm's landmark Consumer Decision Process Service. Parks Associates' analysts predict connected CE devices will be top sellers in this year's holiday shopping season.
Only 38% of U.S. broadband households plan to purchase a CE device this year, but it's the connected CE and smartphones that will be the most popular items. Connected devices are the future of content consumption and entertainment in the living room as they capture the broader trends of integration among different silos in consumers' lives. We will continue to follow their sales through 2011 with Connected CE Tracker.
Connected devices include Internet-connected game consoles, Blu-ray players, tablet computers including the iPad, and digital video players including Roku and Apple TV. By the end of 2010, more than 40 million U.S. consumers will have a broadband-connected game console, more than eight million will have a PC-to-TV connection, more than five million will have a connected Blu-ray player, and over four million will have a networked digital video player (such as an Apple TV or Roku Digital Video Player).
However, even the significant enthusiasm for these devices does not totally offset the drop in CE buying intentions reported for this holiday shopping season. In 2009, almost 50% of U.S. broadband households planned a CE purchase.
Manufacturers, retailers, and technology providers are noting the tight consumer purse strings and continue to roll out the deals. Consumers want deals; that is their trigger as economic conditions have made them more cautious buyers. Market players must stress the value and convenience of Internet-connected devices. It helps that consumers may choose to save the cost of a video membership and eliminate a trip to the store or kiosk.
For more information about Connected CE Tracker or Consumer Decision Process Service, visit http://www.parksassociates.com.
Next: Microsoft eyes leap back into TV: sources
Previous: More Thoughts on Google TV

Comments
Be the first to leave a comment.
Post a Comment