Mass-Market Adoption: Building on Cheers, Overcoming Fears
"What will it take for smart home to reach mass market adoption?"
Recently, I explored this perennial industry question at Parks Associates CONNECTIONS 2019 conference. While we regularly discuss everything from compelling use cases to value propositions, I presented a few thoughts on drivers and barriers around the notion of "building on Early Adopter cheers and overcoming Mass Market fears."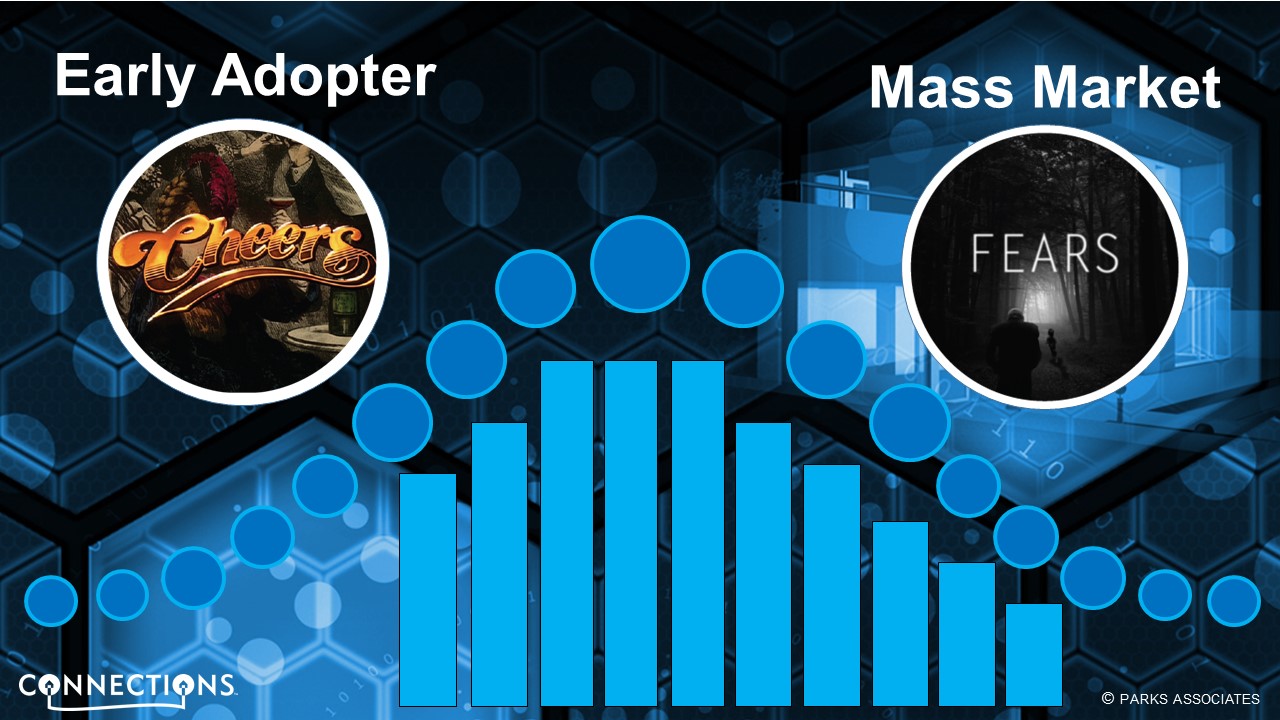 Now, if we're thinking in terms of Geoffrey Moore's classic technology adoption cycle, it takes adoption to move somewhere north of about 16% of anything to move into the early stage of the mass market. More generally, mass market refers to the majority. So, here's a few benchmarks for where the smart home market is today:
Over 1 in 3 (36%) of US broadband households own any connected device, up from 10% in 2014
Over 1 in 4 (28%) of US broadband households own a smart home device from a specified list (lights, locks, thermostats, etc.), up from 9% in 2014
The average number of smart home devices per owning household is 6, up from 3.5 in 2016, with 62% owning 3+ devices
Consumer satisfaction levels and NPS scores are up for all smart home product categories year-over-year
Over 1 in 3 (36%) of US broadband households own a smart speaker and use of a smart speaker for home control has more than doubled in the past year.
Self-installation continues to increase across all product categories

Early Adopters have given us a lot to cheer about here:
Committed core of smart households adding more devices
Device sales up, services attachments growing
Improved reliability, NPS scores
Slightly lower prices, more tiered options
Ease of installation, setup and voice control removing friction
Delightful user experiences driving recommendations

For all the cheers, however, growth in the smart home market over the past year has largely come from existing smart home households that are adding more devices, rather than significant growth coming from new, or "green field," buyers.
We know that each stage of adopters from Innovators to Laggards, acts in unique ways. They have unique attitudes toward technology and pricing, they have unique motivations, and respond to unique messages. So progress into the mass market clearly requires building on the validation of Early Adopters while adapting strategies to better serve the needs of the "average" or "common" consumer. So, what's it going to take?
After decades of analyzing consumer survey research (and more recently conducting smart home focus groups across the country), Parks Associates is persuaded more than ever that moving into the mass market requires dealing head-on with the very real fears, anxieties, concern, and confusion that the average person has about all this stuff. At the end of the day, human beings are emotional creatures and purchasing is often far more emotional than it is logical. So what are some consumer fears needing to be overcome?
Fear of the new and different
Fear of learning how things work
Fear of useless gadgetry
Fear of wasting money
Fear of favorite devices not working together
Fear of being harmed by technology
Fear of product obsolescence
Fear of not doing it themselves (half)
Fear of having to do it themselves (other half)
Fear of loss of control
Fear of data sharing and device hacking
Fear of congestion on home network

There's much to say about all of these issues (of course Parks Associates research does that every day), but I'll close with a few basic strategies for turning these fears into cheers:
Help consumers trust technology in general, and your company specifically
Point to market success, either yours or the product category
Provide expanded, easy-access support to build consumer confidence
Appeal to practicality, savings – mass market buys "must have" products, not "nice-to-haves"
Persuade value exceeds cost – mass market requires stronger value propositions
Make benefits concrete – simple, segmented messaging connects
Minimize risk – offer easy entry points, incremental expansion, and low-risk business models
Offers that drive action – mass market tends to wait and watch, induce them to buy today

Further Reading:
Next: Subscription Fatigue: Understanding Consumers' Perception of Value
Previous: Integrating Wellness Solutions into the Smart Home - Insights from MobileHelp

Comments
Be the first to leave a comment.
Post a Comment