Leveraging Smart Home Innovations to Drive Participation in Energy Management
Research from Parks Associates finds consumer familiarity with energy programs has not grown significantly in the last five years. However, incremental smart home adoption is building the installed base of smart energy devices that can participate.
The research firm also finds that innovations in smart home technology—voice interfaces, machine learning, and real-time data analytics—can be leveraged to drive consumer interest and engagement with energy management solutions. These products are moving penetration beyond early adopters, creating new opportunities for energy providers to enroll consumers in time-of-use, demand charges, and pay-for-performance DR programs.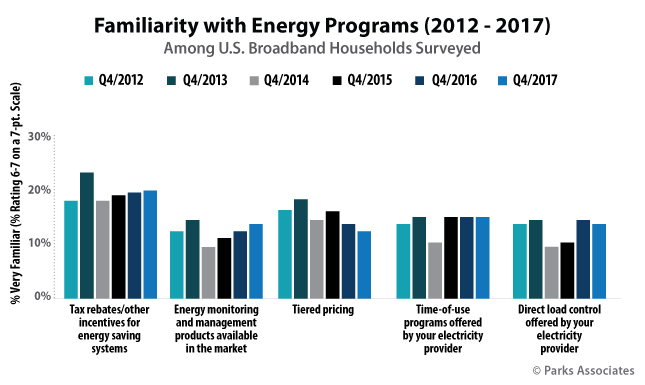 Parks Associates will address how smart home innovations can help utilities address consumer needs for comfort, convenience, and control that are inherent to DR programs during the session Innovation in the Smart Home Market at the ninth-annual Smart Energy Summit. During this session, a panel of experts will examine innovation in the smart home market and strategies that leverage the installed base of smart thermostats and the broader smart home to drive consumer participation in DR programs.
Session panelists include:

The 2018 Smart Energy Summit will take place February 19-21, in Austin, TX. The event agenda analyzes energy efficiency, demand response, and home energy management solutions for consumers and new opportunities for providers, energy management companies, home control platforms and services, and emerging connected devices. Keynotes will be presented by ChargePoint, Itron, Meritage Homes, Nest Labs, Southern Company, and Vivint Solar. Register today!
Further Reading:
Next: Powerley: Energy providers must avoid innovating in isolation
Previous: Building the Path for Net-Zero Energy Homes

Comments
Be the first to leave a comment.
Post a Comment