Is 2019 the Year Voice-Enabled Smart TVs Go Mainstream?
by Craig Leslie | Jun. 19, 2019
Starting with the introduction of Siri on the iPhone in 2011, consumers have increasingly embraced voice-controlled consumer apps and smart devices. With four out of ten US broadband households using some form of smart speaker, it is no surprise that consumers express a growing interest in using voice commands to control their connected in-home entertainment devices. Parks Associates research has found that over half of US broadband households find voice control of connected entertainment devices to be appealing. Furthermore, voice functionality has become an important buying consideration, with 12% of US broadband households stating it is a top feature when buying a new smart TV.
In response, streaming media device vendors including LG, Sony, and Toshiba have been integrating voice capabilities into their products while others such as Apple and Samsung have chosen to market devices with proprietary voice-controlled technology. As means of adding value and increasing stickiness, pay-TV providers have also developed their own voice-controlled offering, such as Comcast's X1 voice remote.
Consumers have responded positively to the rapidly increasing number of voice-enabled connected entertainment devices available to them. In 2017, only 3% of CE device users reported using voice commands when watching a movie or TV program; Parks Associates' latest research finds that almost a fifth of consumers now use voice commands to control their connected entertainment devices several times a week.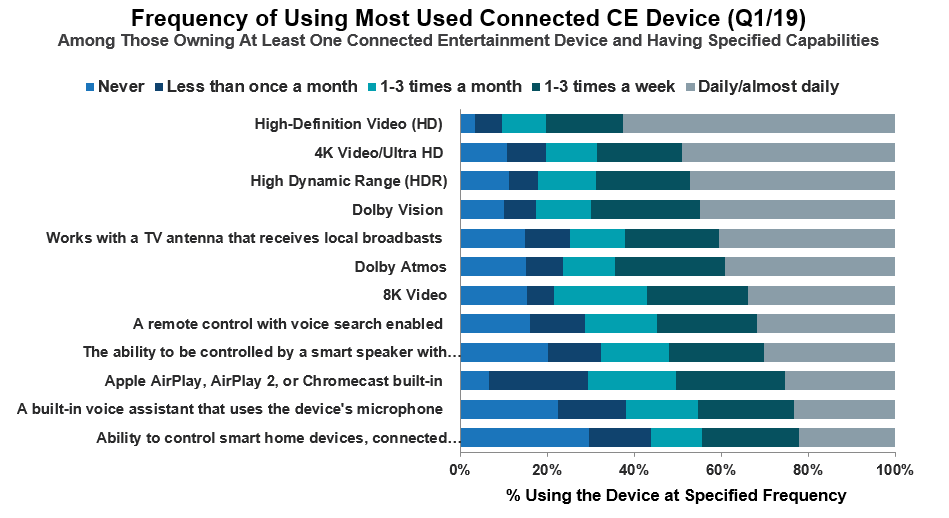 Daily usage of voice to control entertainment would be even higher if more consumers had a TV with these capabilities. Smart TVs are the most widely adopted platform for viewing streaming media content, but sales of voice-enabled units are a small fraction of total smart TV sales. There are a number of reason for this, but the premium price charged for these units has been the primary barrier for many.
The strength of this barrier may quickly weaken as smart TV vendors have recently begun to introduce a range of products at lower price points. This month LG announced it was incorporating support for Amazon Alexa to its entire 2019 ThinQ AI TV range in the US, which will significantly boost the number of voice-enabled smart TVs in the market at the $500 price range. Amazon is moving the price point even lower, discounting TCL Roku TVs under $300 and Toshiba Fire TVs to around $200. By positioning these products to appeal to the mass-market consumer, these vendors are setting the stage for a dramatic increase in voice-enabled smart TV adoption.
For further reading on consumer usage of voice controlled connected entertainment, please check out Parks Associates' report The Impact of Voice Technologies on Consumer Entertainment.
Further Reading:
Next: Chris O'Dell, Parks Associates shares voice research at VOICE Summit 2019, NY
Previous: Extension of the smart home to the connected car - Insights from SoundHound

Comments
Be the first to leave a comment.
Post a Comment