Insurance for the Smart Home: Mitigating Risk and Creating Revenue
Leading insurance companies are currently testing various models for integrating smart home services with insurance services in order to deepen customer engagement, mitigate risk, and create new revenue streams. While the insurance industry has historically used data in a backward-looking manner, IoT data streaming from devices in real-time represents an opportunity to quantify risk with greater precision.
Parks Associates research indicates a substantial portion of consumers would be willing to share data in exchange for home insurance discounts—more than half of smart smoke/CO detector owners are willing to share data for discounts. The firm also notes that over five million smart water leak detectors will be sold in the U.S. by 2020, totaling more than $200 million in annual revenues.
At the 2017 CONNECTIONS™ Conference in San Francisco, the session "Insurance Strategies for Consumer IoT Markets" on May 24 focused specifically on new business models emerging in the insurance industry as a result of IoT innovations. Attendees were asked to choose the biggest opportunity for smart home data to impact insurance: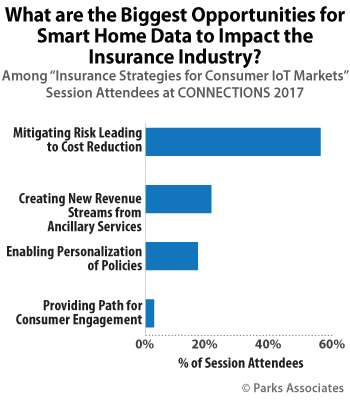 While all opportunities show viability for the industry, mitigating risk remains both the top opportunity and value proposition for smart home and insurance players. Consumer demand for safety-related products will drive adoption independent of any insurance industry involvement, but the insurance industry can accelerate adoption by providing discounts in exchange for sharing data. It can also push technology innovation for new sensors and systems that address industry-specific needs. Partnerships between device makers and insurance companies will therefore be key to moving the market forward.
Parks Associates is the leader in IoT consumer research. View our smart home research.
For more information on CONNECTIONS™ sessions or how your company can become involved in future conferences, visit www.connectionsus.com.
Further Reading:
Next: Independa: Integration, affordability, and simplicity are key to smart home adoption
Previous: Moving the Smart Home Market Forward

Comments
Be the first to leave a comment.
Post a Comment